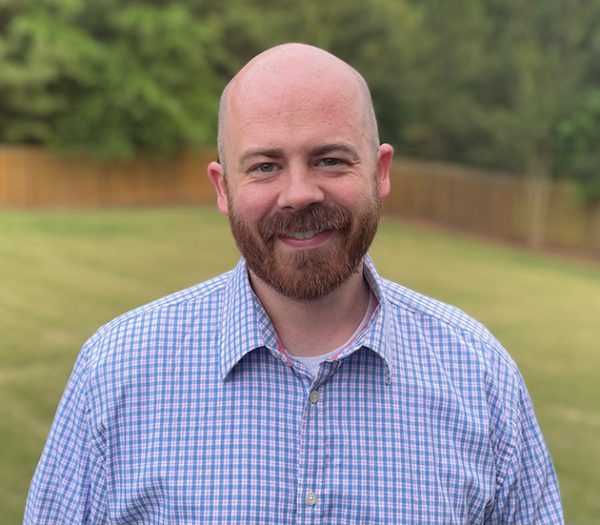 Founder and Executive Director
Chris Sanders is a Mayfield, Kentucky native with an unbridled passion for using technology to make peoples lives better. Coming from a poor rural background, Chris saw first-hand that talent was often distributed equally, but opportunity was not. By leveraging his interest in computers, he was able to find success understanding the needs of people around him and how the application of technology could ease burdens. This began in high school, where he developed a software package for use in student-operated banks, created a technology resource portal for special education teachers and students, and developed a website that allowed his school guidance counselors to upload scholarship opportunities that seniors could apply for.
Not long after graduating, he established his own scholarship fund for students from Western Kentucky interested in pursuing technology-related college education. That fund eventually became the Rural Technology Fund, which has introduced over 150,000 students in all 50 states to the potential of technology careers and helped bring the first computer science education programs to hundreds of schools.
Along with his work at the RTF, Chris is an information security instructor, author, and researcher. He is the founder of Applied Network Defense, a company focused on delivering high-quality, accessible information security training. In previous roles, Chris worked with the US Department of Defense, InGuardians, and Mandiant to build security operation centers, conduct analyst-centered research, and train analysts focused on defending military, government, and commercial networks. Chris has authored several books and articles, including the groundbreaking computer security best sellers Intrusion Detection Honeypots, Practical Packet Analysis (currently in its third edition and in seven languages), and Applied Network Security Monitoring. In 2021, he obtained his Doctorate in Education from Baylor University. Chris's research focus lies at the intersection of cyber security, education, and cognitive psychology where he studies security analyst cognition and performance.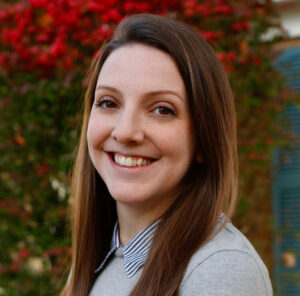 Dr. Claire Copps,

Chief Operations Officer
Claire Copps is a Special Educator and advocate from the DC metro area. She began her professional career in the classroom after receiving her BA in English from the University of Mary Washington and her MA in Special Education from the George Washington University...
teaching in both inclusive and self-contained secondary environments as well as at the community college. While spending time raising her sons and working part-time administratively, she returned to school to earn her EdD in Learning and Organizational Change. 
Aside from teaching, Claire's passion lies in Assistive Technology and providing appropriate educational supports for students. She wrote a book chapter on considerations for best serving Special Education students in general education environments with Assistive Tech and wrote her dissertation on access to Augmentative and Alternative Communication for self-contained secondary students. She also spends time advocating for Childhood Apraxia of Speech, including organizing fundraising and a state proclamation for awareness. Her goal is to work towards providing equitable access to Assistive Technology.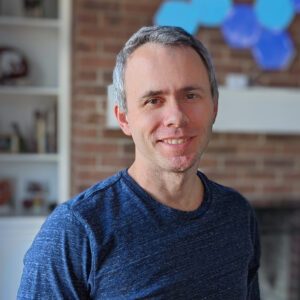 Jason Smith,

Chief Technology Officer
Jason Smith is an intrusion detection analyst by day and junkyard engineer by night. Originally from Bowling Green, Kentucky, Jason started his career mining large data sets and performing finite element analysis as a budding physicist.
By dumb luck, his love for data mining led him to information security and network security monitoring where he took up a fascination with data manipulation and automation.
Jason has a long history of assisting state and federal agencies with hardening their defensive perimeters and currently works as a Security Engineer with Blackrock. As part of his development work, he has created several open source projects, many of which have become "best-practice" tools for the DISA CNDSP program.
Jason has a profound love of rural America, a passion for driving, and an unrelenting desire to learn. Jason is currently living in his hometown of Bowling Green, Kentucky with his wife and daughter.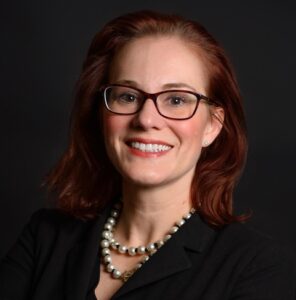 Elizabeth Wharton
Elizabeth (Liz) is Vice President of Operations at SCYTHE, leveraging over a decade of legal, public policy, and business experience within the information security and technology field to scale SCYTHE through and post a Series-A funding round.
Her prior public and private sector experience also include being the Senior Assistant City Attorney (City of Atlanta) responsible for advising Hartsfield-Jackson Atlanta International Airport on technology policy and projects and serving as a lead on the City's ransomware incident immediate response team.
The former host of the "Buzz Off with Lawyer Liz" tech-focused radio show, Liz currently hosts SCYTHE's CISO Stressed podcast. Outside of SCYTHE, she is a member of the Technology & Innovation Council with Business Executives for National Security, an executive with the ICS Village helping lead the Hack the Capitol conference, and a member of the DEFCON CFP Review Board. Liz also volunteers with various student cybersecurity, STEM, and robotics organizations and competitions. She received her J.D. from Georgia State University College of Law and her B.A. from Virginia Tech.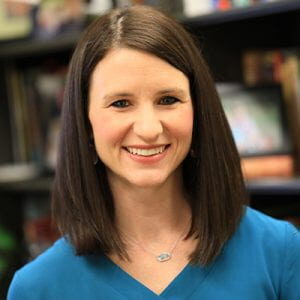 Dr. Brooke Blevins
Brooke Blevins, Ph.D., is the Conwell G. Strickland Endowed Chair, Associate Professor, and Chair of the Department of Curriculum and Instruction at Baylor University. Dr. Blevins teaches both undergraduate and graduate courses in secondary education, social studies education,
and multicultural education. As a former secondary teacher, Dr. Blevins has a passion for equipping teachers with the resources needed to engage in humanizing social studies education. Dr. Blevins also serves as the co-director for the iEngage Summer Civics Institute, for which she and co-founder Dr. Karon LeCompte have raised more than $250,000 in grant funding.
Dr. Blevins' research focuses on social studies education as a means to prepare active and engaged citizens. In her work, Dr. Blevins examines how to prepare teachers to develop both political clarity and pedagogical content knowledge that encourages them to engage in transformational based and humanizing social studies education. In addition, Dr. Blevins is also interested in how to educate and empower young people to become active civic participants through participation in action civics and digital technologies.
Dr. Blevins's work as been published in journals such as Theory and Research in Social Education, Social Studies Research and Practice, The Social Studies, Multicultural Perspectives, The Teacher Educator, Teachers College Record, Democracy & Education, and the Journal of Social Studies Research. She is a member of the Social Studies Inquiry Research Collaborative (SSIRC), which examines the impact of authentic intellectual work in social studies classrooms.
Dr. Blevins was named a Baylor University Fellow in 2017 and a Senior Fellow in 2018. Dr. Blevins has won several awards for her research including the 2013 Jon Laska Outstanding Dissertation Award from the American Association of Curriculum and Teaching and the 2011 Best Paper Award from the AERA Research in Social Studies Education SIG for her work with SSIRC. Dr. Blevins serves as the media and book review editor for Theory and Research in Social Education. An active member of the College and University Faculty Assembly of the National Council for the Social Studies, Dr. Blevins was elected the 2019 Chair of the CUFA Executive Board. Dr. Blevins also serves on the CUFA Executive Board and was the program chair for the 2016 conference in Washington, D.C. Dr. Blevins is also a member of the Illuminate Human Flourishing, Leadership, and Ethics subcommittee.
Brooke and her husband, Ben, have three children, Eli, Adi, and Elli. In her free time, Dr. Blevins enjoys baking, gardening, and exercising.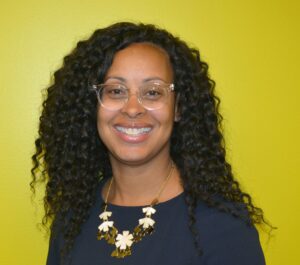 Dr. Shavonne Gibson
Shavonne Gibson is the Assistant Superintendent for Teaching and Learning in the Office of the State Superintendent (OSSE) of Washington, DC. In this role, Shavonne has oversight of training and technical assistance for educators, educator quality and effectiveness
educator licensure and approval of teacher preparation programs, English learner education policy, and educator awards. Prior to entering this role, Shavonne served as the Managing Director of Schools at a public charter school network in Washington, DC. In that role, she had direct supervisory and evaluation responsibility for the school principals and oversight of the academic program of the PK-8 school network. Shavonne previously served as a school principal and during her tenure the school was awarded the National Title I Distinguished School Award for closing the achievement gap.
Shavonne is a career educator having taught and led in New York City and Washington, DC. She holds a bachelor's degree in political science from the University of Rochester, a master's degree in Secondary Education-Social Studies from Long Island University, a second master's degree in Educational Leadership from George Mason University, and an EdD in Learning and Organizational Change from Baylor University. Shavonne lives in Maryland with her husband and two sons.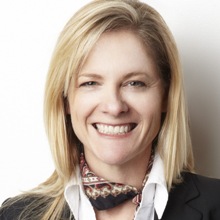 Monica Bilak
Monica leads teams and organizations in developing innovative strategies that guide their future value. She has designed and implemented transformational blueprints for business, education, healthcare, nonprofits, and government.
She's worked with Fortune companies needing to reimagine the future of their digital strategies, education systems seeking to provide talent for the new world of work, and communities wanting to support tech-based entrepreneurial ventures. She is the founder and Executive Director of Sprocket, a nonprofit digital economic development organization. Sprocket's mission is to connect the community to innovative learning, work, and business for the digital economy.