Thinking Outside the Coop
A children's book written and illustrated by Betsy Von Hagen for the Rural Technology Fund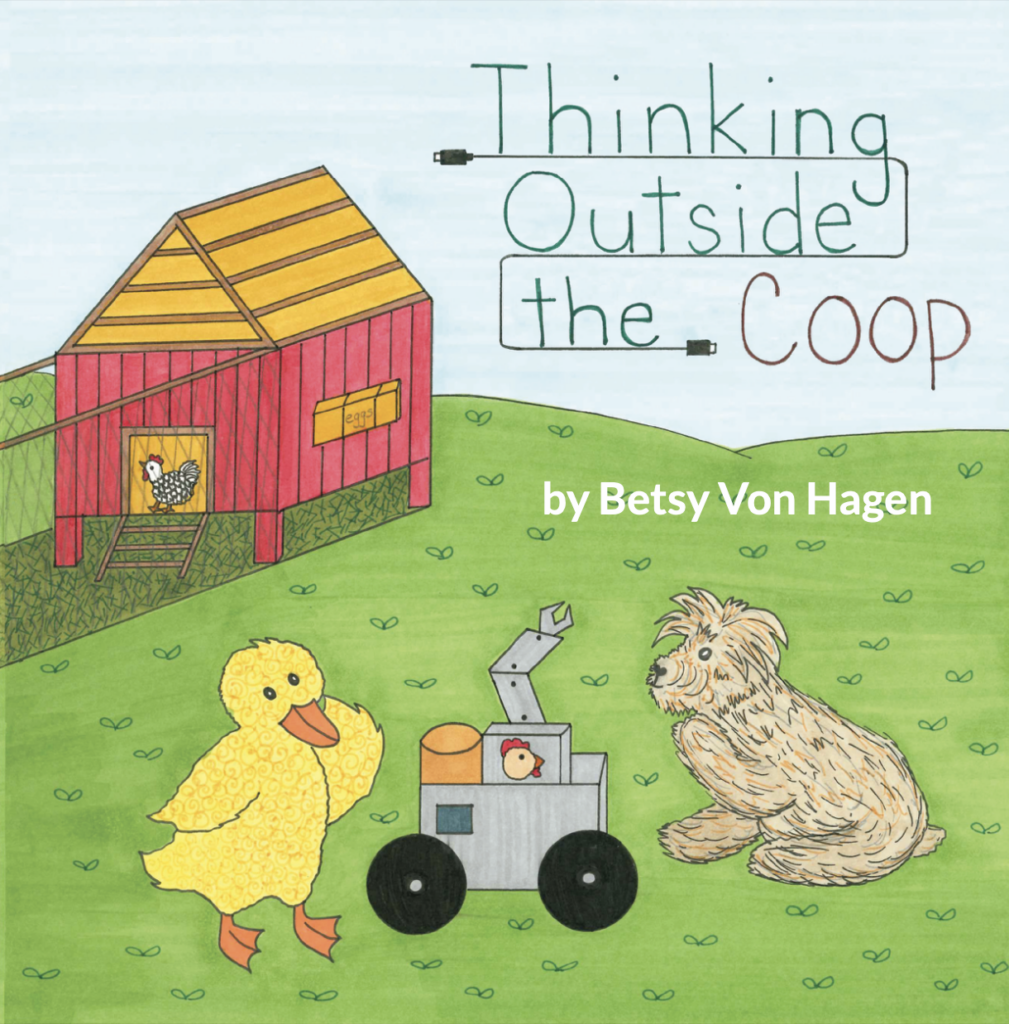 The chicken coop is egg-speriencing some problems. Eggs go missing, eggs are getting dirty, and eggs are being stolen. Widget and Zip, the dog and duck duo, get to work problem-solving. See how they design electronic circuits, 3D print tools, and even build their own robot to prove that there's more than one way to overcome an obstacle.

Every day, we work with rural school teachers and librarians to provide tools that help introduce more kids to the potential of tech-centric careers. Part of the mission includes helping students understand how people can use computers and other tech to solve real-world problems in an accessible way. "Thinking Outside the Coop," written and illustrated by Betsy Von Hagen, is just the story to do that.
This book, targeted at elementary school-aged children, is available to purchase on Amazon, with a portion of the proceeds going directly to the Rural Technology Fund. This funding allows us to provide technology education resources to more students in rural areas. We'll also be donating copies of this book to schools nationwide, accompanying our existing support to rural classrooms.
Check out these extension activities and supplementary ideas to support the inclusion of "Thinking Outside the Coop" in your classroom! Toggle through the different age ranges to see the various suggestions.
Ages 4-5
Ages 6-8
Ages 9-13
Ages 4-5
Extension Activities for 4 – 5 year olds
When eggs were going missing, Widget installed a camera to watch the chickens.

Let's make a pretend camera!  You will need: a cylinder (such as an empty Pringles container or paper towel roll), a piece of wax paper, a pin, wax paper, tape, black construction paper, and a blanket.  On ehow's site under "Getting Crafty" is an article entitled How to Make a Pinhole Camera for Kids.  Visit this site for a visual explanation: https://www.ehow.com/how_6697673_make-pinhole-camera-kids.html  Cover one end of the cylinder with wax paper, unless it has a clear top attached (such as a Pringles container).  The other side, if it does not have a bottom, can be covered with black construction paper.  Pole a tiny hole in the center of the bottom.  Cover the cylinder and your head with a blanket so that all you can see is through the wax paper side of the cylinder. What do you see?  Why do you think you see this way?  How is this different than how your eye can see?      

Zip created a Scare Dog to scare away animals that might want to eat chicken eggs. 

Can you design your own "Scare Machine"?  What would it look like?  What would it do to scare off animals?  Draw and label your idea.   

Widget and Zip built a robot whose job is to collect eggs.  

If you could design a robot to do a job for you, what would it be?  Draw a design for a robot!  What job can he do for you?  How will he do it? 

Egg shell science: How strong is an egg shell?

What can you balance on top of an egg shell?
Crack open and wash out the inside of two eggs.  You can cut the egg shells to make them even. Build a bridge by placing the four half shells in a line. See what you can balance  on top of the egg shell bridge.  On the Science Sparks website, Emma Vanstone details the experiment in her article entitled How Strong is an Eggshell?  See this link for more details and pictures: https://www.science-sparks.com/how-strong-is-an-eggshell/
Widget worked on the left-hand side of the coop.  Zip worked on the right-hand side of the coop.  Color, cut, and glue Widget and Zip puppets (see below) and attach to popsicle sticks.  As teacher / parent calls out "left" or "right" and the name of a body part, the child places the puppet by the correct spot on their body.  Ex: "Left arm" "Right ear", etc. 

Create a chicken coop sensory bin for little hands!  Use plastic eggs, spoons, feathers, some string, and some cardboard tubes.  Let your Junior Scientists have some fun exploring.  

Have students use blocks to build their own chicken coops for paper chickens.  Color and cut out paper chickens and place in the coops. Consider giving them real hay as well!   
Ages 6-8
Ages 9-13