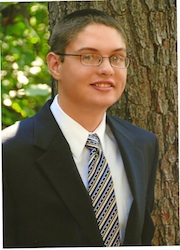 The Board of Directors of the Rural Technology Fund are pleased to announce that Nicholas Maguire, a 2013 Goochland High School graduate from Goochland, VA has been awarded the Rural Cyber Security Scholarship for the 2013 academic year in the amount of $1000.00.
Mr. Maguire is planning on attending the University of Virginia and will be majoring in Computer Science. He was selected to receive this scholarship based upon his exceptional responses to several essay questions designed to gauge interest and passion for a future career in computer-related technology, while drawing inspiration for his rural community.
In his essay response, Nicholas cited the importance of the cyber battlespace in future conflicts, "I am excited about the ability to use cyber security as a defensive weapon in potential future conflicts with other nation or non-nation adversaries. Cyber warfare has the potential to revolutionize conflicts and lend an advantage to countries that cannot afford aircraft carriers and other large weapons. It is a new sphere of conflict, and, while the United States has distinct advantages in it, no country has complete control over it. It used to be said, "He who rules The Seas, rules the world." Cyberspace has the potential to become The Seas of the 21st century."
He also went on to describe how his football coach, Coach Fowler, has provided inspiration for him to succeed, "Under his tutelage I have learned many lessons about football, and, perhaps more importantly, many lessons about life." He went on to say "He has shown me that proper behavior is necessary everywhere, on and off the field. As a Goochland football player we represent more than ourselves, we represent our community in everything we do."
We wish Nicholas the best of luck in his future pursuits!