Every January I look forward to sitting down and reflecting on everything we've accomplished over the past year. In the non-profit business we measure success based on impact, and I'm pleased to say that 2015 was our most impactful year every. I want to take a moment and discuss all the good we've managed to accomplish, and some of our plans for 2016.
Expanding Our Focus to the Classroom
Prior to this year, we've been almost exclusively focused on providing resources to individual students from rural areas interested in pursuing a college education in computer technology. This typically manifests through our scholarship programs, which have allowed us to give away more than $25,000 in education opportunities.
While we have continued to provide scholarships, this year marks the first year we've shifted much of our focus towards the classrooms where education occurs, and to the teachers who provide that education. While a donation of a scholarship may impact an individual, a donation to a classroom can impact dozens, and often hundreds of students. While scholarships foster the education of someone already interested in pursuing technology-based careers, placing an emphasis on teachers and classrooms gives us an opportunity to spark that interest for the first time.
In 2015, we've seen a great deal of success by partnering with DonorsChoose.org to deliver technology and equipment to rural and high-poverty school districts. With that focus, we've made equipment donations to classrooms in 12 states, reaching 3100 students. Because of this, we've inspired students to pursue further education in computer programming, systems administration, computer engineering, and graphic design. But don't just take my word for it, here are some thank you letters we received from students and teachers in these classrooms:
Those are just a few students who've really benefitted from these donations. As I type this, I 'm sitting next to a stack of thank you notes from hundreds of students across the country who have shared similar thoughts. The Rural Technology Fund has impacted more students in 2015 than all of our previous years of existed combined, and we want to impact ten times as many in 2016.
Launching Makerspaces Across Rural America
Building on the success of our new initiatives focused on empowering students through the classroom, in October we announced the Makerspaces Across Rural America (MARA) project. We set an ambitious goal to build ten complete makerspace labs in public schools in 2016. These labs will contain modules focused on robotics, programming, electronics, engineering, and more. This is a huge commitment that will positively impact a great number of young people, helping to ensure that students from rural and low income areas have every chance to succeed in high demand computer-related fields. Not only that, this initiative well provide rural students with skills that they can use to invest back into their communities, eventually turning those students from job seekers to job providers, bridging the digital divide between rural communities and their urban and suburban counterparts.
As of now, we have already raised nearly 40% of our $100,000 goal. I'm confident that we'll be able to exceed this goal.
Measuring Impact
Earlier I mentioned that we've impacted more students this year than ever before, and we released our new interactive impact map showing all the rural areas we touched. This year, our donations allowed us to reach 3100 students in rural and low income areas across the country. These students ranged from kindergarten to undergraduate levels and reached students of many ethnic and socioeconomic backgrounds. I'm looking forward to putting many more dots on this map in 2016.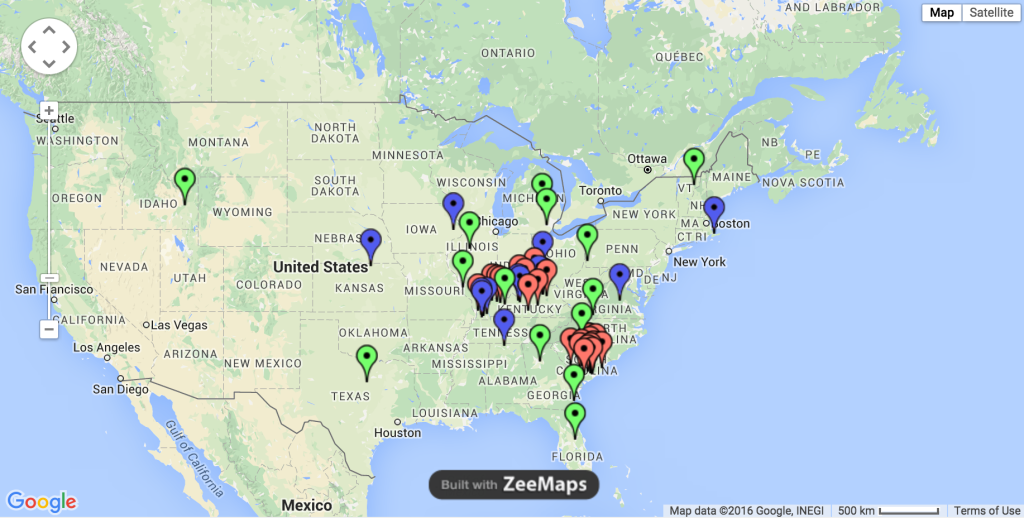 New Ways to Contribute
This year we've launched a few new ways to contribute to the RTF. First of all, we are now an eligible charity on Amazon Smile, which allows a portion of your Amazon purchases to go towards the RTF. We are also now eligible for PayPal's Giving Fund, in which PayPal will donate an additional 1% towards any contribution you make to us during eligible promotion periods. Along with our traditional giving mechanisms, it's never been easier to make a donation and help us positively impact rural students and communities.
As always, the RTF is 100% volunteer led. That means that 100 cents of every dollar go to support our initiatives. No money you donate will be eaten up by administrative costs. Very few organizations are able to say this.
Looking Towards 2016
It's going to be hard to top last year, but I have every expectation of doing so. Through our scholarship programs, individual classroom donations, and the MARA project we hope to expand our impact from 3100 students to over 30,000 students! That's a 10x increase, but I believe we are in position to do it. Of course, we can't do it without the help of individuals and companies who are also passionate about investing in rural communities and helping develop the next generation of technology leaders. If you'd like to learn more about how you can help or about the RTF in general, don't hesitate to contact me at chris@ruraltechfund.org.
Happy New Year — All the best!
Chris Sanders, Director