As we head into 2018 we mark the ten-year anniversary of the Rural Technology Fund. When I started the organization I always said that we wouldn't measure impact by the number of donations we receive or the size of our staff, but instead by the number of people we positively impact. As I write my yearly letter to you — the teachers, students, volunteers, donors, and community members who make the RTF work, I want to first begin by thanking you for your support. This has been the most successful year in the history of the RTF by a large margin and it isn't possible without everyone who supports us directly, or indirectly.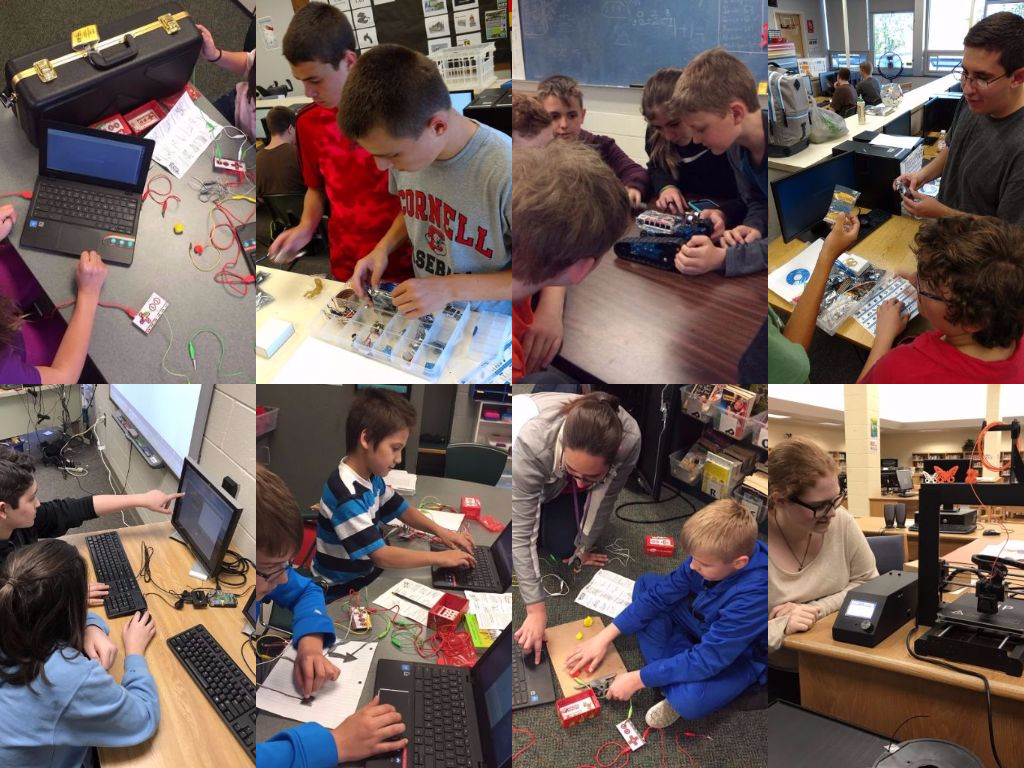 Here are a few highlights from our year:
30,000 Students
In 2016 I set a very aggressive goal to introduce 10,000 students to technology through the donations we make to classrooms. This was nearly 3x more students than the previous year, but we met our goal. In 2017 I set another aggressive goal to positively impact 25,000 students and I'm glad to say that we didn't just meet it, we far surpassed it by reaching just over 30,000 students. This impact really started to sink in as I started hearing from the teachers in these classrooms. I've received thousands of thank you letters from these teachers and their students. I read every single letter and keep them on a shelf in my office to constantly remind me of the life-changing impact we're having.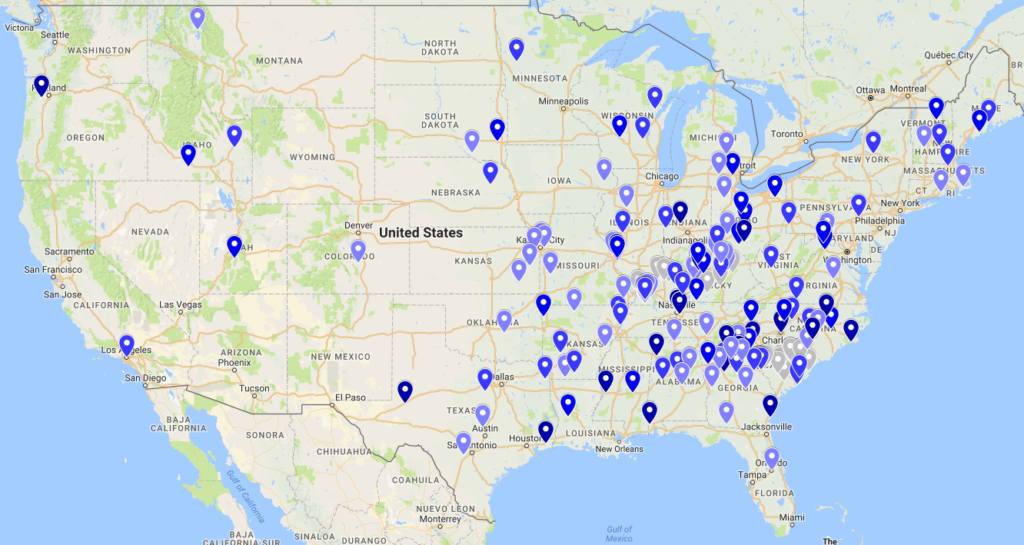 Financial Transparency
I'm proud to tout that 100% of the funds we raise go directly to support students. We don't pay salaries and overhead is covered direct support from the foundation's board members. We were able to reach 30,000 students while still spending 100% of every contributed dollar in the classroom. In that spirit, I'm glad to release this year's financial transparency information.
Total Carried from 2016: $24191.73
Total Raised in 2017: $60220.21
Direct Individual Support: $22,143.00
Indirect Individual Support: $3824.00
Direct Corporate Support: $5250.00
Corporate Matched Funds: $1270.00
Board Member Contributions: $25000.00
Merchandise Sales: $2733.21
Total Spent in 2017: $35908.05
Scholarships: $1500.00
Classroom Donations: $31995.28
Merchandise Inventory: $1777.77
Other Student Support Initiatives: $635.00
Total Carried Forward to 2018: $48503.89
December continues to be the month where we raise the vast majority of funds. For the third year in a row, our fundraising has grown allowing us to carry forward a larger balance into the next year to support our increasing goals which I discuss more below.
Multiple Fundraising and Awareness Events
We raised awareness and funds at several in-person events this year. In September, we partnered with our friends at the Security Onion Conference and BSides Augusta to host our first ever fundraising dinner ahead of these events. It was a tremendous success and I had a great time interacting with RTF supporters and those who were interested in learning about the work we were doing. I hope we'll be able to do another dinner next year. Throughout the year we also ventured to several technology conferences to raise awareness about the RTF, sell merchandise, and raffle off donated items.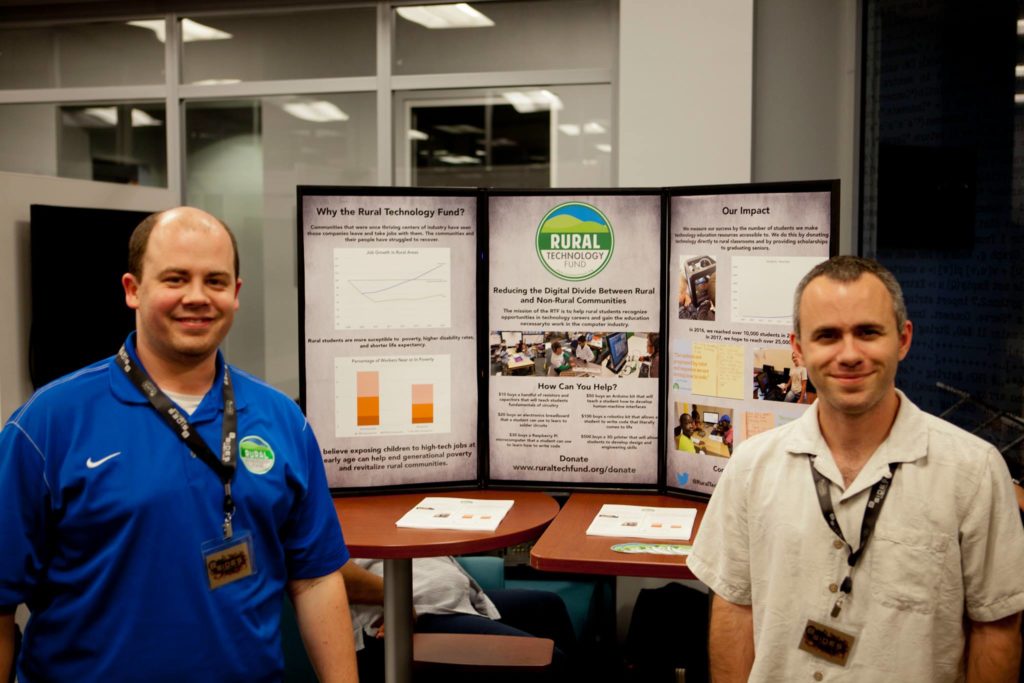 Merchandise
We've been asked about RTF merchandise for a long time and this year we made that a reality by releasing our "This Shirt Fights Poverty" apparel. Although the shirt is simple, we spent a long time designing it. We didn't just want a shirt with our logo, we wanted something that was unique and provoked conversation. The response for these shirts has been fantastic. I wear mine with pride nearly everywhere I go and people can't help but ask me, "How does your shirt fight poverty?" I've gotten quite good at perfecting my answer, as I suspect a lot of the other shirt owners have now too.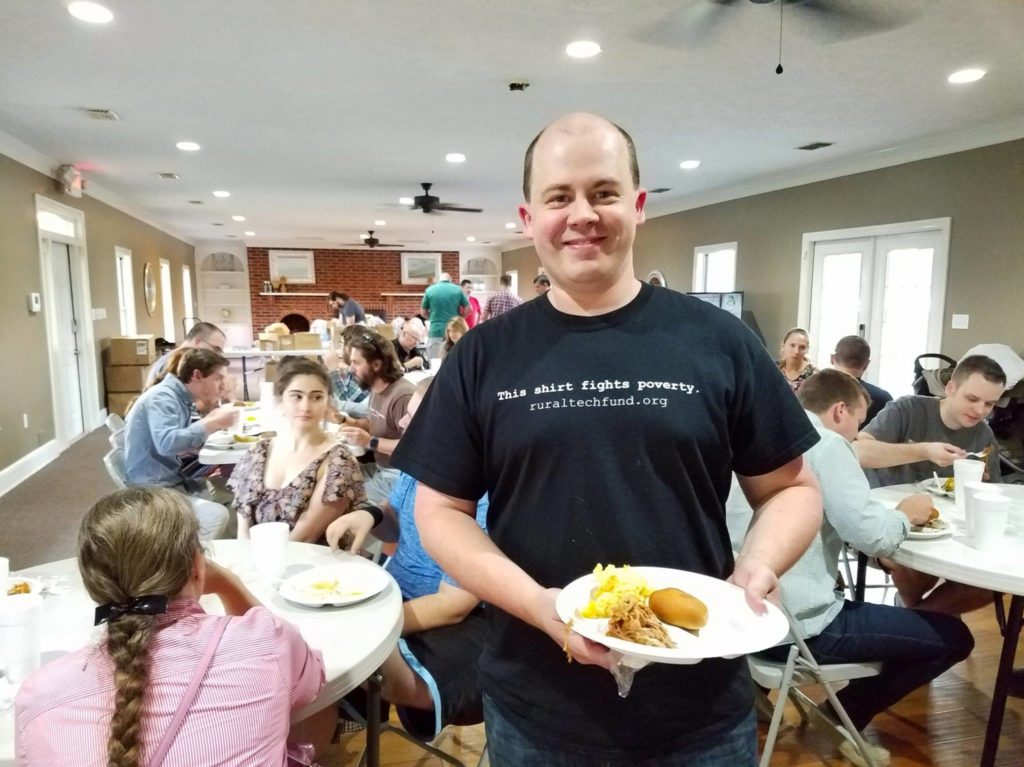 We've been selling these shirts at tech conferences here and there, but we also have them available in our online store. It's a unique thrill when I see people wearing these shirts in my travels.
Going Home
A personal highlight for me this year was returning to my home in rural Western Kentucky. I was invited back to alma mater, Murray State University, to receive a distinguished alumni award. Around the same time, I had been in discussion with the Graves County School district from where I graduated to make a contribution to their technology education programs. The timing worked, and I was able to meet with district staff in person to accompany a donation of a 3D printer for every school in their district.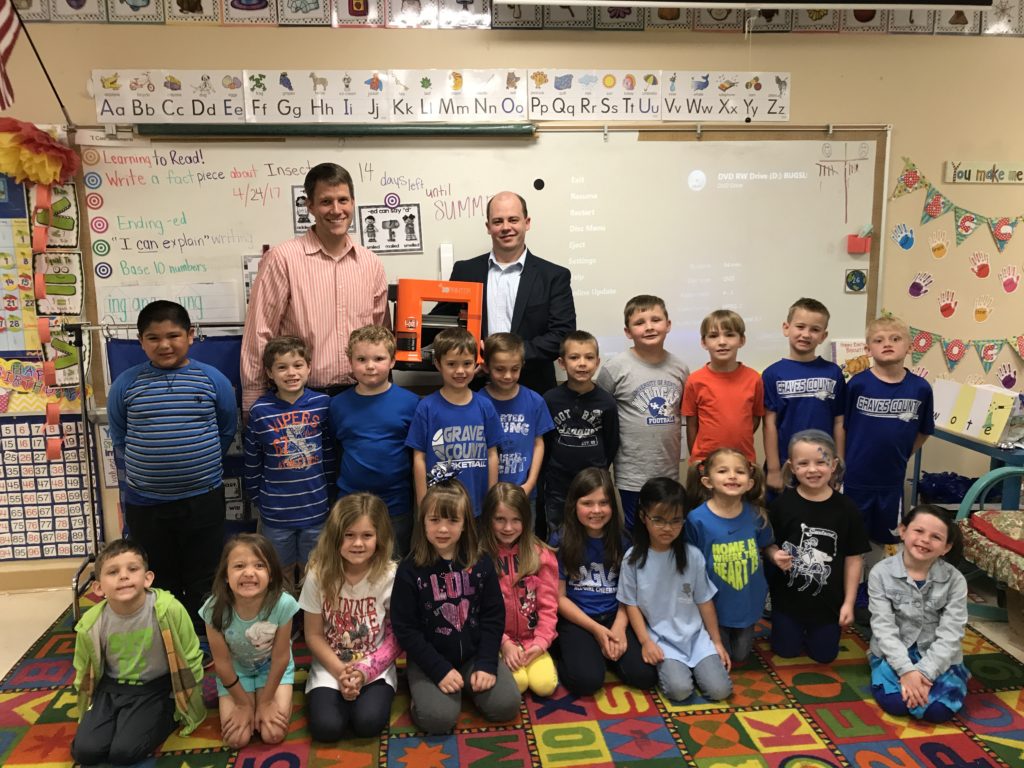 I'm proud of every contribution we make to a classroom, but this one brought particular joy to me as I walked the halls of the schools that shaped me. Not long after the donation, CNN did a piece on the RTF highlighting some of that work. The media attention was certainly valuable to help get the word out about what we're doing but above all, I was just really happy to see Mayfield, KY mentioned on CNN. Mayfield is the middle of nowhere for many, but it was the center of the universe for me and is where the dream of the RTF began.
Looking Towards 2018
As proud as I am of what we accomplished in 2017, there's so much more to do. I truly believe that every student we introduce to the potential of technology jobs is another student who could potentially end the cycle of generational poverty in their family and help revitalize their rural community.
Our Next Goal
With that in mind, our next goal is just as ambitious as our first. In total, we've provided technology to over 40,000 students in about 30 states. Within the next two years, we want to reach 100,000 students in all 50 states. We've got the blueprint and the passion to reach our goals, but we'll need help from volunteers and donors to get there.
Volunteer Support
Our goals this year were aided by the contributions of two new volunteers. James Nettesheim is responsible for many of the blog posts you've seen that detail the work we're doing in individual classrooms, along with the social media posts accompanying them and the design of our booth display. Jerin Saji joined us recently and has taken on the task of helping build and maintain the database that tracks the technology we donate to classrooms. These efforts will allow us to learn more from these classrooms: what works, what doesn't, where we can make the largest and most significant impact.
We're looking for more volunteers who are passionate about helping the underserved communities. Specifically, we need people who are willing to go out to rural schools and lead workshops and people who can represent the RTF at conferences to sell merchandise. We're also looking for researchers and grant writers who can help us pursue grant-based funding to help us expand our reach. If you're interested in any of these roles, please drop me a note.
Library as the Makerspace
We've had a tremendous impact by enabling passionate teachers who want to enrich the lives of their students. The next logical progression is for us to expand that reach by enabling community leaders to do the same. If I were to describe the perfect community learning center I would describe a place that exists in most rural communities, that is safe, well-staffed, filled with people who love learning, and open to anyone in the community. Those facilities already exist — they are our public libraries! At a time when many libraries are seeking to reinvent themselves in the digital age, we believe that libraries are well equipped to become the new community makerspace.
I envision a library that doesn't just provide access to the internet, but a place that teaches people how to connect devices to it. I see a place that doesn't just allow kids to run programs but teaches kids how to code them. I imagine a place that doesn't just let people access computers to apply for jobs, but a place that trains them how to launch into higher-paying technical careers.
With this in mind, we've embarked on a new research mission to learn from public libraries who are already performing facets of this vision. Our plan is to assemble a framework for rural libraries that allows them to embody this makerspace vision by teaching STEM-related classes and leading projects to enrich local businesses with technology-based projects. I'm excited to share the results of this project as it evolves. If you live near a community library that is doing this type of work, I'd love to hear from you and talk with them.
As proud as I am of what was accomplished last year, I couldn't be more excited to push towards our new goals in 2018! Thank you for your attention and support.
All the best,
Chris Sanders