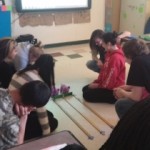 Through DonorsChoose.org, the RTF sent an Apple TV to a rural classroom in Illinois.
A note from the teacher:
Dear Rural Technology Fund,

Thank YOU! I cannot tell you how much the students and I appreciate your willingness and eagerness to help support us. It is an awesome encouragement in a time when our supply budgets are routinely cut each year. It is hard to accurately express in written word the impact your kindness has on our attitudes AND academics. I hope to be a more mobile teacher who can walk more amongst the students while controlling our projector from my hands with an iPad. There is also a plethora of apps that are only accessible on iPads that I can now utilize with my students as an entire class.

We cannot say THANK YOU enough and I cannot wait to update you in the near future.

With gratitude,
Mrs. S.