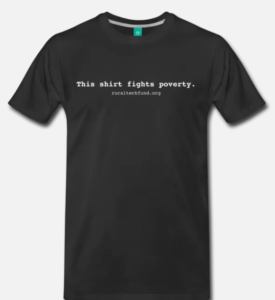 We're excited to announce the official opening of our online merchandise store, complete with our new "This Shirt Fights Poverty" shirt!
All proceeds from the store go to support computer science education in rural and high-poverty classrooms. We can't wait to see you wearing your RTF support!
You can access our online store here: https://shop.spreadshirt.com/ruraltechfund.
We have plenty of sizes, styles, and colors available. If you don't like your purchase or it doesn't fit, you can return or exchange it within 30 days.
If you bought a shirt, we'd love to see it! Post it to our Facebook page or tag on @RuralTechFund on Twitter!