Mrs. Quinn started her Donor's Choose proposal with "Creativity Calls" and we couldn't agree more!
My students need a variety of tools and materials to use in the library where they can collaborate to invent, create, tinker, explore, and discover. We need K'nex and more.
Mrs. Quinn's 550 students middle school students love to learn in the library. We fully understand the power of a shared space for all students to use and were so excited to help Mrs. Quinn create a maker space in their school's library. These maker spaces are now equipped to create a variety of gadgets to include cars and other movable objects that can then be controlled via student written computer programs!
Mrs. Quinn stressed how not only do these materials help introduce the school's students to STEM education, but also experiment with both simple and more complex materials. This is especially valuable for learning by doing with trial and error.
Just look at everything the students were able to create!
Mrs. Quinn's note to us details the excitement and opportunities for learning these gadgets have provided:
…

One classroom project went along with a book we read aloud. The students had to build cause and effect skills by thinking of something that would happen if a button was pushed. Each student created their own idea and planned out what would happen. After planning, the students used resources to build what they planned would happen. Some had to try several different times until they found what would work for them. It was amazing to see how creative they were. I also loved seeing their faces once they figured out what would work after trying a few different times.

Our next project is to use the Sphero SPRK. My students and I can't wait. We have first learned a little of how it actually works. My students will be breaking into groups and trying to come up with a way to get the SPRK to swim. Each group will have a tub of water. They will have to figure out a way to build paddle like arms to attach to the SPRK. They will then test their building skills out in the tub of water. We are all so excited!!

Again, thank you so much for helping my sweet students be able to learn skills they will use and need in everyday life. We all appreciate your kindness!

With gratitude,
Mrs. Quinn
Maker spaces are amazing in that they combine both simple and high tech materials and tools to enable students to collaborate in learning, making and exploring. They are especially valuable in providing students a solid basis in STEM while also helping the students connect STEM learning with concrete applications. These Hamilton students are able to quickly see the results of their hard work and share them enthusiastically with other members of their community. This helps prepare them for bright futures as entrepreneurs, software developers, mechanical engineers and scientists. As always we're extremely grateful that we are able to help and want to share the heart warming letters with the rest of the RTF community!
Braeden Having Fun Making!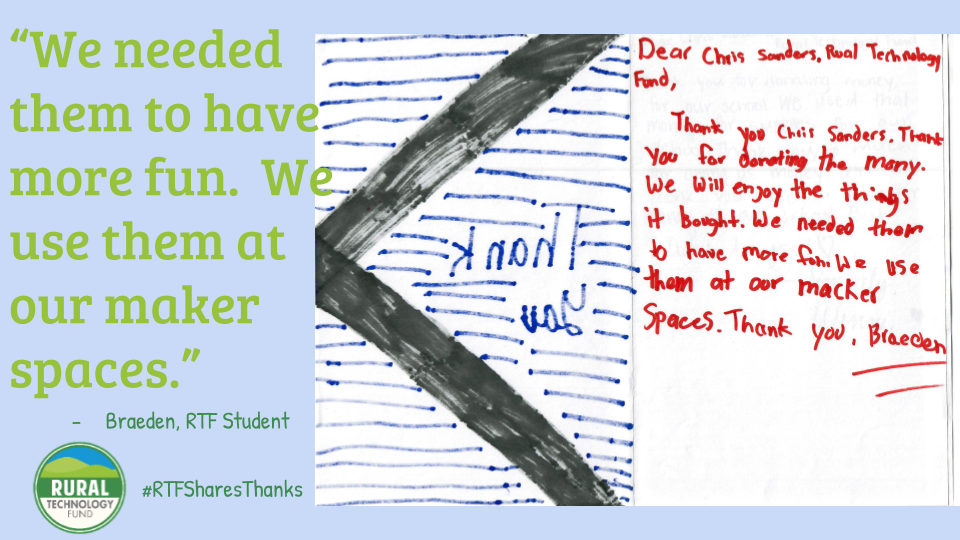 Mollie Building Creativity Skills!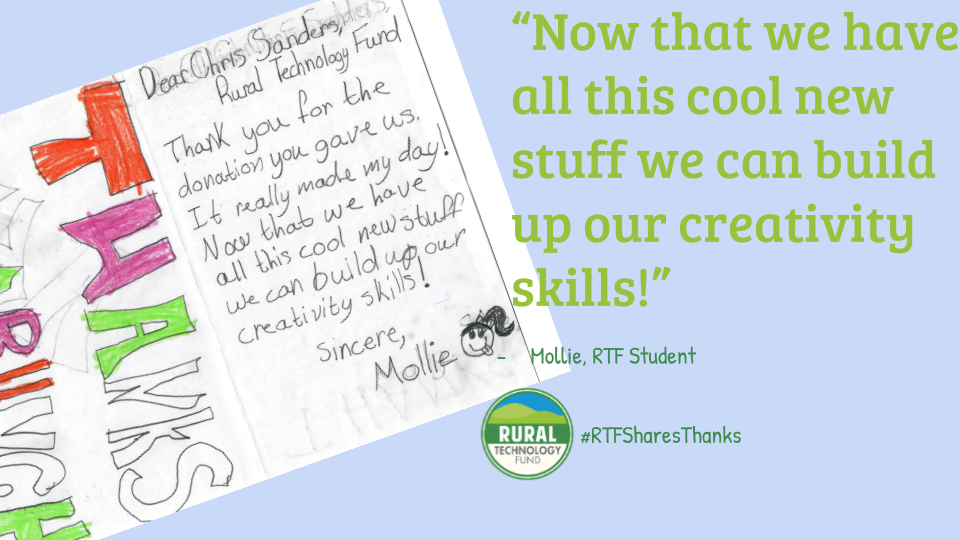 Noah Showing Us the Math!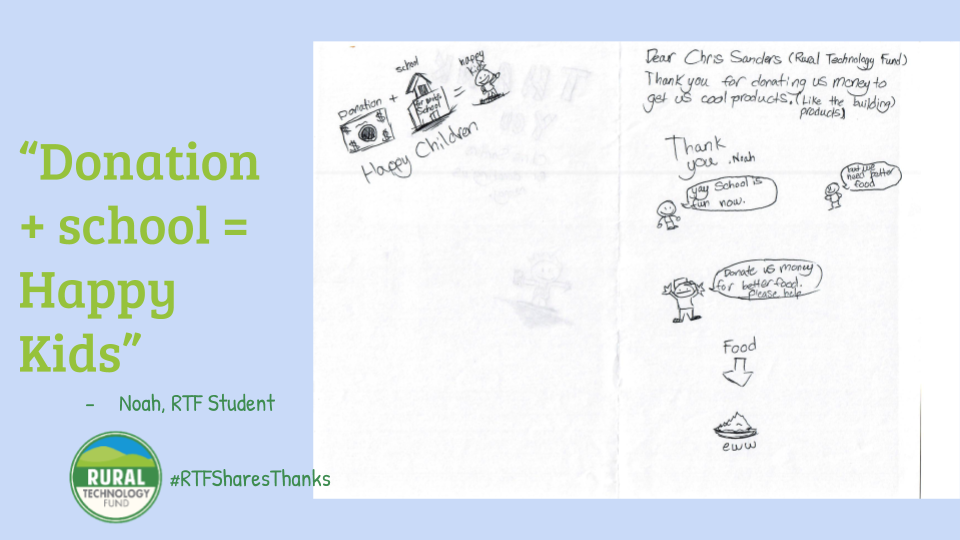 Emma Getting into the Gadgets!

Cailey Expressing Their Joy!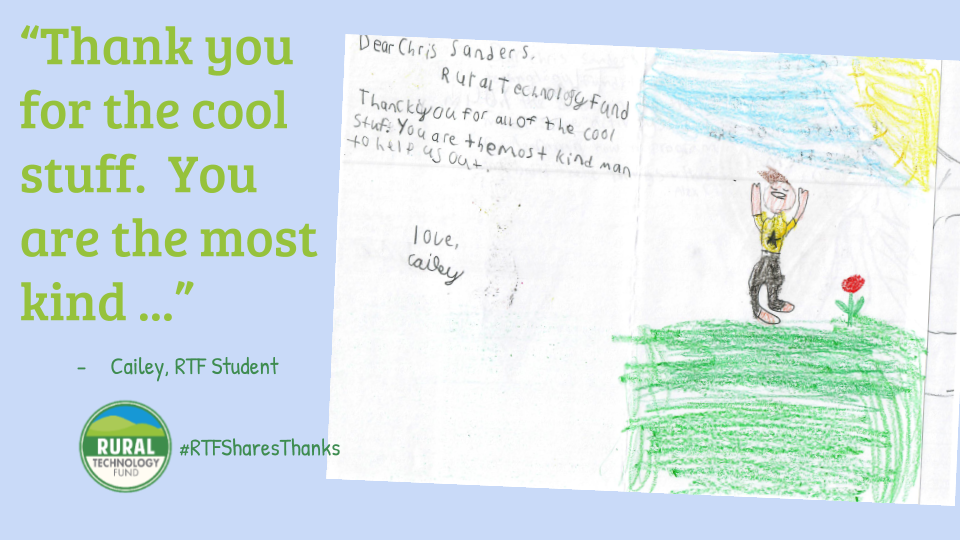 We're thrilled to have made an impact on the community of Hamilton, AL and its students! Check out our blog, twitter and facebook pages for other editions of #RTFSharesThanks!
—
We're trying to bridge the digital divide between urban and rural communities by helping introduce students to technology jobs and end generational poverty. Interested in making an impact in your community? E-mail us or consider donating to our general fund or contributing to our patreon.