Knowing how much folks appreciate seeing the direct impact of RTF, we wanted to share the tremendous contribution the Archcon community has made in our newest edition of #RTFSharesThanks. As part of our partnership with Archcon, we were able to fund many meaningful projects in the Donors Choose network and recently received some amazing pictures and thank you notes from a St. Louis elementary school.
These come from Mrs. Flynn and her 275 students in St. Louis, Missouri. Mrs. Flynn requested littleBits, Snap Circuits and an Ozobot to help her students "become the creative inventors of tomorrow". Mrs. Flynn's project showcased how a mixture of technologies can be used to foster problem-solving and creativity, all while having fun!
Mrs. Flynn's incredible letter shows why our partnership with Archcon was truly so impactful:
I spent some time starting, stopping, and restarting this letter. I couldn't quite locate the proper phrase to show my appreciation. It's much more than a simple thank you, yet, my sincerest thanks to you is what I wish to articulate.

…

Because of your contribution, I notice my students searching out additional opportunities to enhance learning. The students' creativity is not limited, and that alone is a tremendous gift.

My students do not have these technological advantages in their homes, so the classroom is where they design, experiment, create, and recreate. The items have allowed for truly special moments of educational significance; ideas and concepts that would be missed without your generous donation. With sincere appreciation from the students and myself, we thank you again.

With gratitude,
Mrs. Flynn
The students thoroughly enjoyed the combination of electronics, robotics, circuitry and programming. The projects encouraged students to creatively explore with the goal of creating their own technology and solve a challenge in their own worlds. These resources will prepare students broadly for lives as innovators, entrepreneurs and inventors with career paths including computer programmers, application developers, and engineers.
As always the students say it so well:
Lucas coding with color and sequences!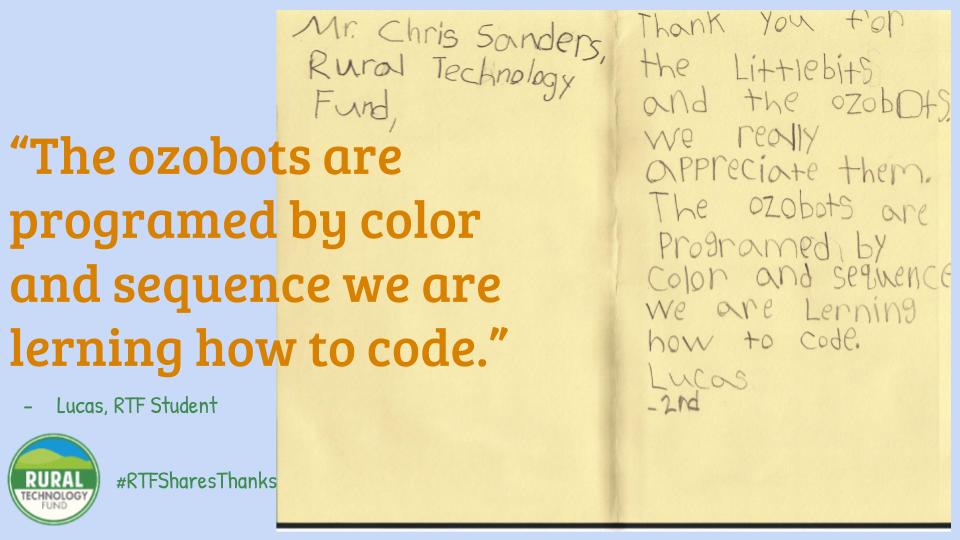 Students having fun learning!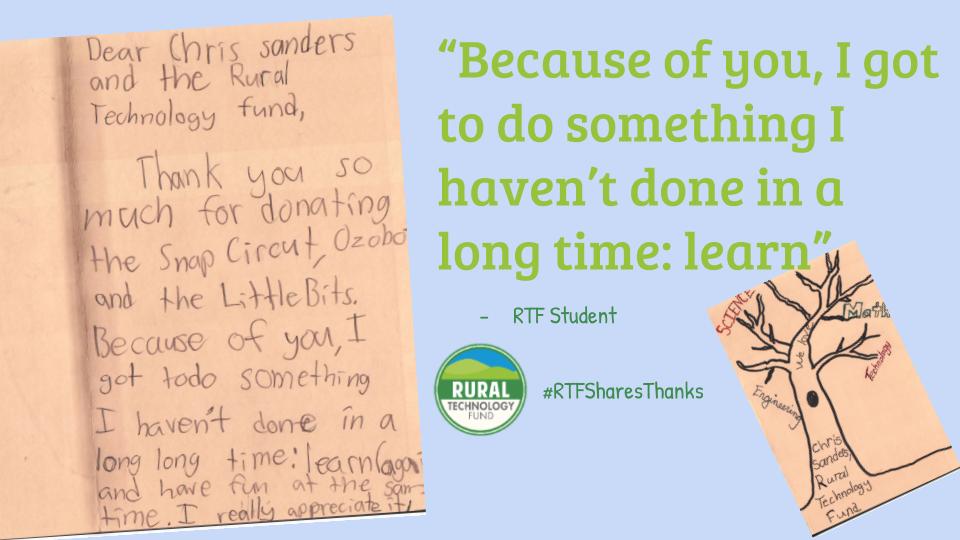 Sophia programming in her gifted class!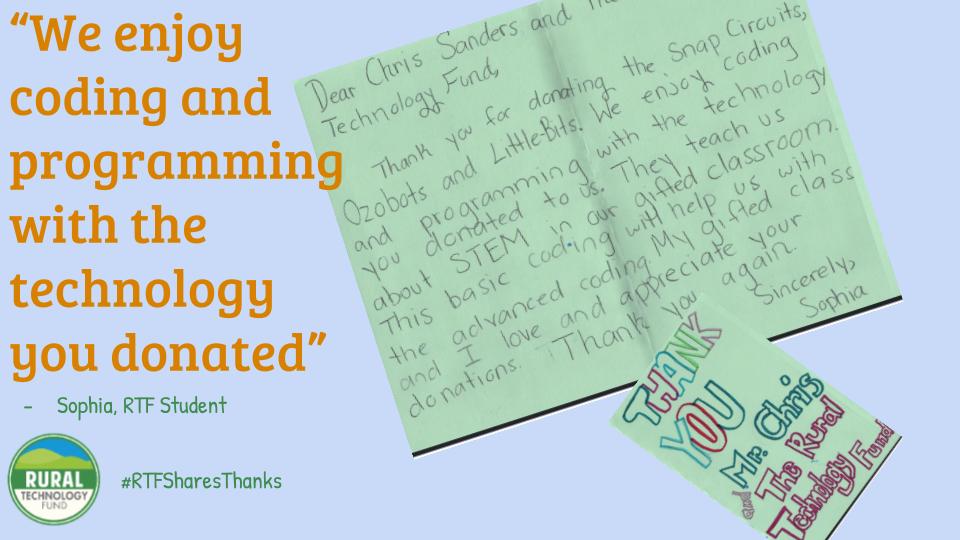 We're thrilled to have made an impact on the community of St. Louis, MO and its students! Check out our blog, twitter and facebook pages for other editions of #RTFSharesThanks!
—
We're trying to bridge the digital divide between urban and rural communities by helping introduce students to technology jobs and end generational poverty. Interested in making an impact in your community? E-mail us or consider donating to our general fund.