Preparing eighth graders for the transition to high school STEM classes is becoming ever more important for future success Mrs. Small is up to the task though and had the wonderful idea of using programmable robotics to teach a variety of different skills in her Maine classroom. As she said in her proposal:
Motivating students is one of the biggest jobs in teaching.

By introducing Robotics and Programming to science, I am looking to enrich the teaching of science. It is my hope that this new dimension of technology will engage and challenge the students while stimulating an interest in science.
RTF was happy to be able to provide a Makeblock DIY Ranger Transformable Stem Educational 3-in-one Robot Kit for Mrs. Small's 125 eight grade students! Mrs. Small has now successfully introduced her vision of "Learning Programming through Robotics" to her eighth grade class and has started an after school robotics club for all students. This is especially helpful in preparing students to join the First Robotics League in their follow-on high school.
Mrs. Small shared how the robot is already helping transform her school with big hopes for the future:
Students are very excited about the new robot. Very anxious to get to programming but we haven't had time to do much of that at present. The students have been working with the robot learning how it operates and driving it. A couple of the students are very interested in transforming the robot into its other types of robot. This teaches them skills of problems solving and following directions. Since the school year is so close to the end we will have to put the robot away for the summer and pick up where we left off next year. This is a tremendous learning experience for the students and they will be anxious to start programing in September. Thanks so very much for this new technology. This is the first robot for our middle school but hopefully not the last. The students are talking robotics team now so that is why we have another donors choose project up for an EV3.

This whole experience will better prepare the students to enter high school and hopefully many will want to enroll in the STEM endorsement program where they will be working with several different types of robots like the EV3 and ROV.

Thanks again for your generous donation. This may be the start of something very big for our school district.

With gratitude,
Mrs. Small
Not only is programming the robot a lot of fun, but it's invaluable in teaching students critical thinking and problem solving skills. Students are able to both program the robot and transform it into a completely new robot! These students will now be well prepared to continue their STEM learning in high school and and can look forward to lives as software developers, robotics engineers and systems designers.
Building on the energy Mrs. Smith described, her students shared their excitement in their letters to RTF.
Brendan Exploring with the Robot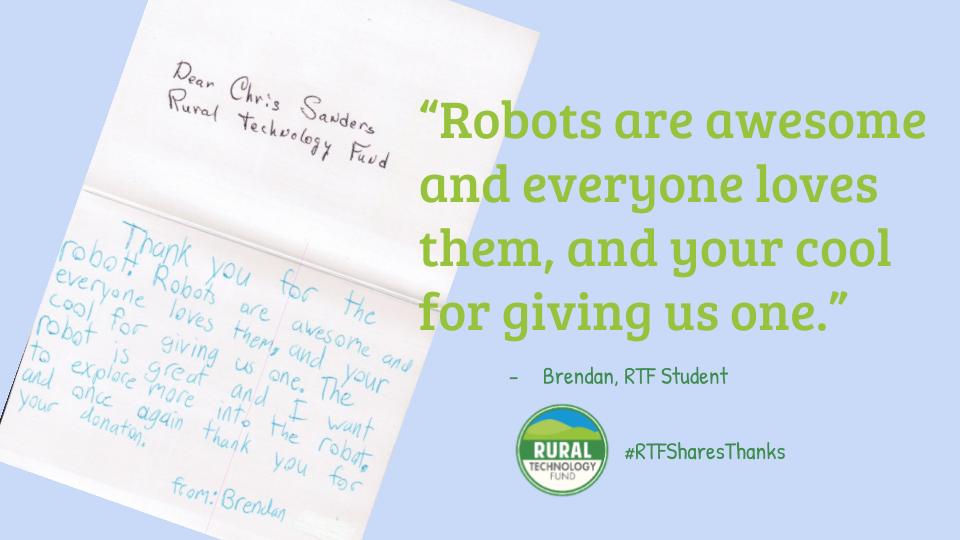 Paige Becoming a Programmer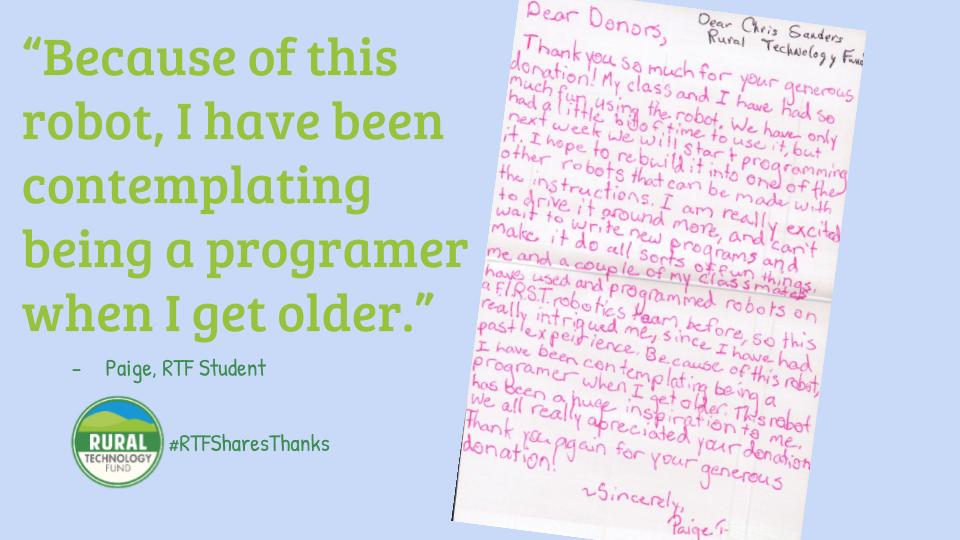 Zach Mastering the Features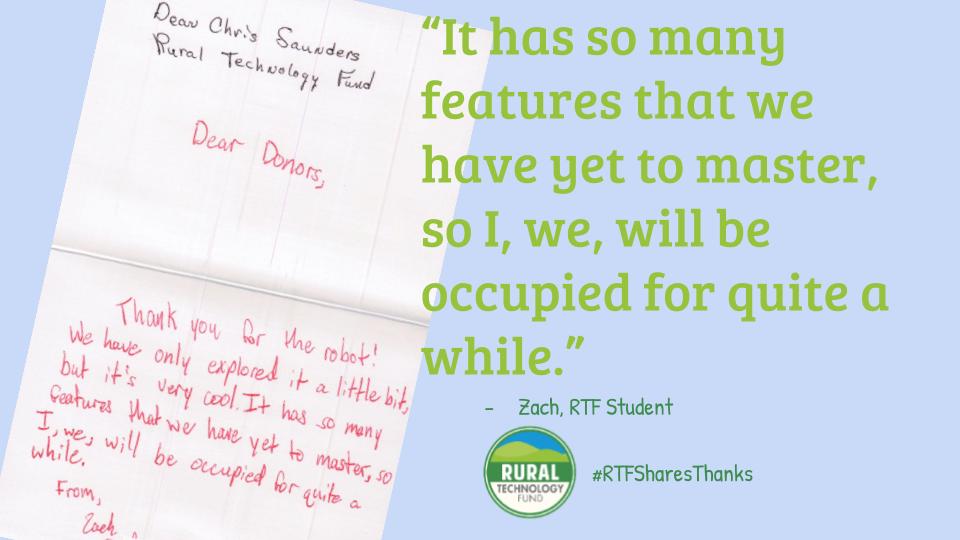 Jackson Programming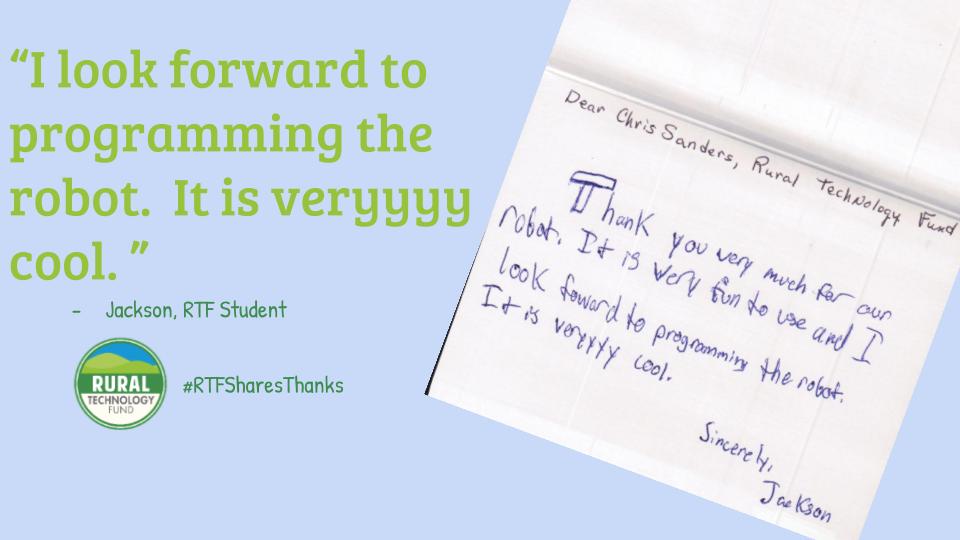 We're sure you're just as excited as us at the impact we've been able to have on the community of Belfast, ME and its students! Please continue to stay tuned at our blog, twitter and facebook pages for other editions of #RTFSharesThanks!
—
We're trying to bridge the digital divide between urban and rural communities by helping introduce students to technology jobs and end generational poverty. Interested in making an impact in your community? E-mail us or consider donating to our general fund or contributing to our patreon.