"Step Into the Future (Robotics and Coding)"
My Students

My students walk into our classroom every day full of life, ready to learn, and excited for what is in store for them that day. They are a joy to teach and will keep you on your toes with what they will say and do. I try every day to shine a light on the little thing that they do that make them unique and individual. I want them to know I believe in them and they can do anything.

– Ms. Pope
Ms. Pope had a clear goal for her Grade 3 – 5 students in rural Alabama. That is to help prepare her students for their futures by exposing them to the world of STEM education. The passion that both Ms. Pope and her students bring to the classroom was obvious from her very first description of them.
RTF always enjoys funding robotics based requests, but Ms. Pope's truly went above and beyond. Not only did she request robotics parts, but also computer kits and add-on coding jams! The students would see their creations built tangibly through the robots, but also get hands-on experience building a computer and coding.
The variety of technology they were able to interact with and their interest in them is wonderful to see:
Ms. Pope came with a plan and we have no doubt it will open up worlds for her students:
Hopefully with introducing robotics and coding to my students at an earlier age will help spark a love for it. Which will help them in the long run because we are turning into a world that is becoming dependent on technology. If I can spark a love for STEM in my students, then they are more likely to want to peruse a career in a STEM field. In our near future we are going to need wonderful brains working in the STEM fields and I hope that some of my students become those brains.
Thanks to donors like you, 3M and other partners we were able to fully fund this project, and as Ms. Pope aptly states, these learning tools are very important for students in rural areas:
I work at a rural school in Alabama, and my students love to be able to use technology at school because many of them do not have it at home. Everyday my students ask if they get to "play" on the Ipads or computers. When they get to "play" on the devices they do not realize sometimes that they are learning, and they get so excited about the activities. With our new Osmo component they are able to see what coding is and hopefully inspire them to want to go into a technology field. With our other materials we have been working on building robots, which they think is pretty cool. They also have really enjoyed getting to work with our new coding computer.

After we opened our package and explored our new tools for our classroom, I asked my students what their favorite part was. Some of my students like the coding while others like the robotics. I love seeing their faces when they are interacting with our new learning tools because they don't realize that they are learning.

I have several students who have behavioral problems and these new learning tools have been wonderful for them. They love being able to "play" with technology and they know if they do their work and do it correctly and in a timely manor they will have time to spend on with technology on Fridays. They also know that if they have not done their work during the week then they can not go to technology on Fridays. I have seen some dramatic changes in behavior and completion/quality of work. I greatly appreciate your help getting these wonderful learning tools in my classroom to change the lives of my students.
These students are still so young, but have very bright futures. Here at RTF we're proud to play a small part in helping them grow.
Rusy Not Giving Up!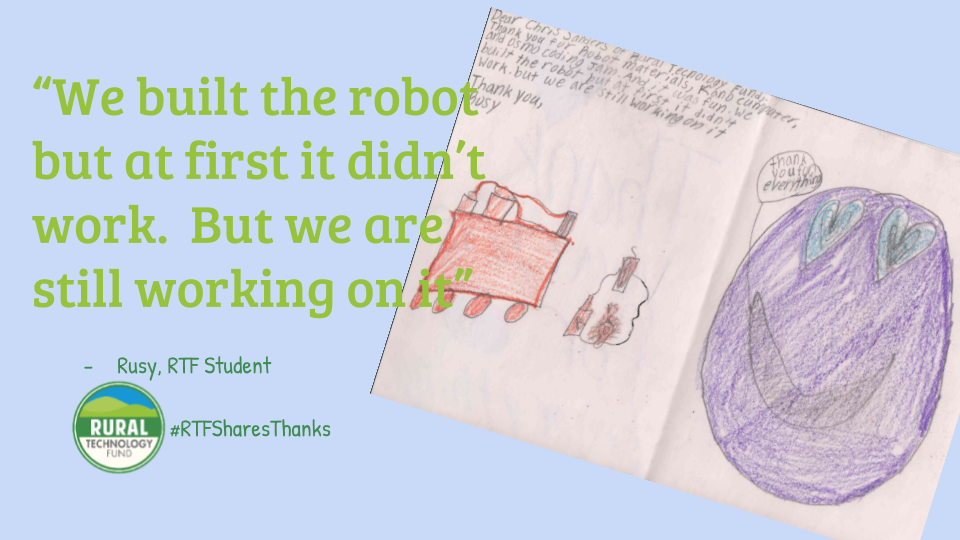 Lexi Showing Us How They Learn!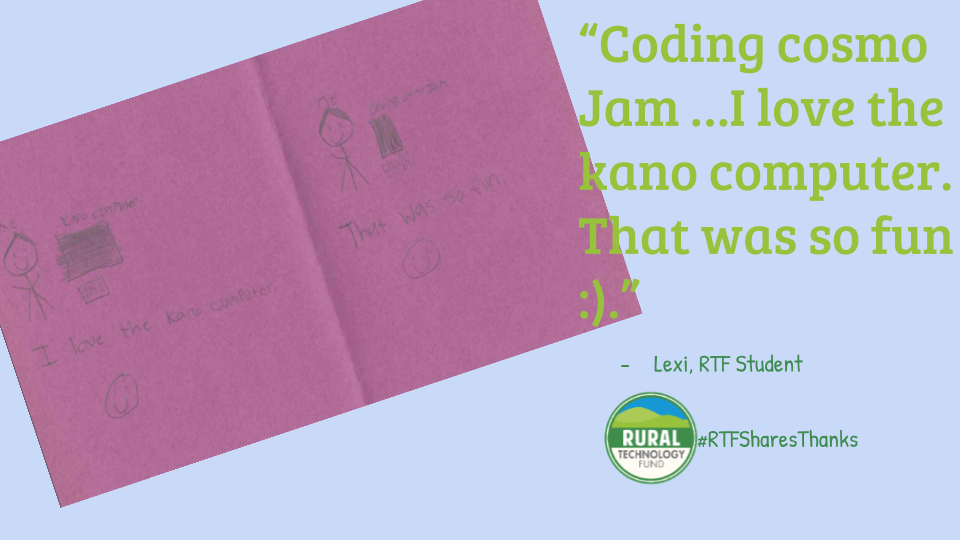 Ethan Enjoying Building and Coding!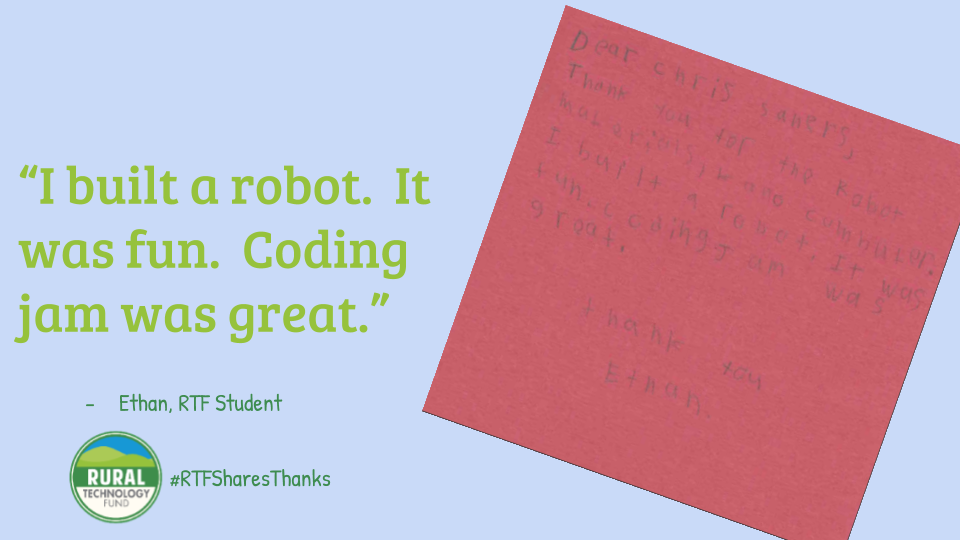 Micah So Full of Thanks!

Jewel Sharing the Whole Class' Gratitude!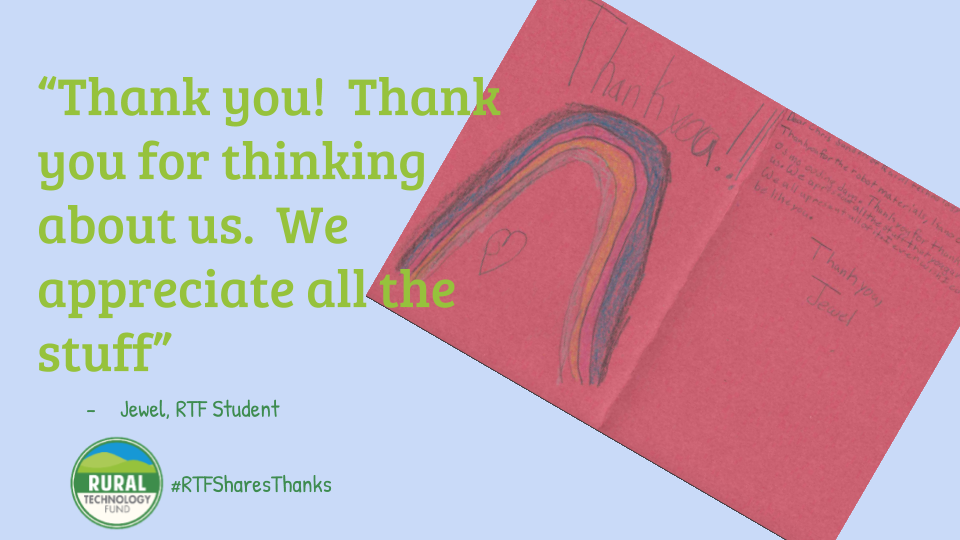 Ezekiel Loving How the Robot Looks!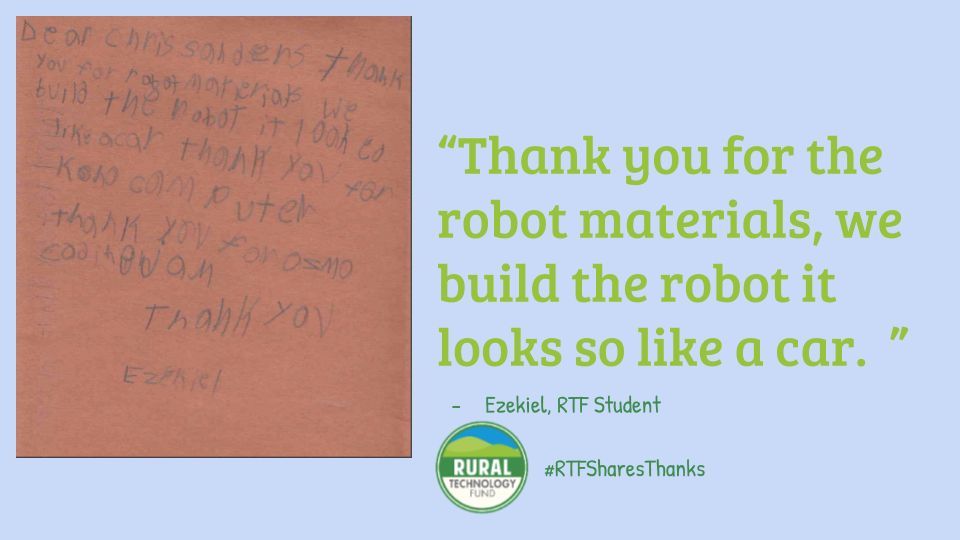 We're thrilled to have made an impact on the community of Verbena, AL and its students! Check out our blog, twitter and facebook pages for other editions of #RTFSharesThanks!
—
We're trying to bridge the digital divide between urban and rural communities by helping introduce students to technology jobs and end generational poverty. Interested in making an impact in your community? E-mail us or consider donating to our general fund or contributing to our patreon.