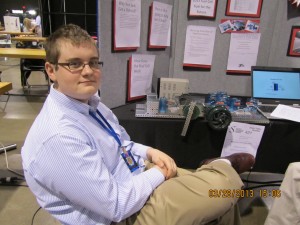 The Board of Directors of the Rural Technology Fund are pleased to have announced that Lucas Hart, a 2013 Montgomery County High School graduate has been awarded the Kentucky Student Technology Leadership Program (KY STLP) Scholarship for the 2012 -2013 academic year in the amount of $1000.00.
Mr. Hart is planning on attending Maysville Community and Technical College and will be majoring in Computer Science. He was selected to receive the KY STLP Scholarship based upon his exceptional responses to several essay questions designed to gauge interest and passion for a future career in computer technology. The KY STLP Scholarship is an annual scholarship awarded to a Kentucky senior who is an active member in his/her local STLP chapter and is planning to pursue further education in computer technology.
The scholarship was awarded to Mr. Hart at the 2013 STLP State Championship at Rupp Arena in Lexington, KY.