Happy New Year! Every year I look forward to writing this letter where I review the progress the Rural Technology Fund has made over the last twelve months. Since our inception in 2008, every year has seen an expansion of our fundraising efforts and an increase in measurable impact. This has helped us make huge strides towards our goals of helping students in rural and high poverty areas become interested in and pursue careers in computer technology. I'm thrilled to say that 2016 was no different, having reached more students and classrooms than ever before. Here are a few highlights from our year:
10,000 Students
Last year, I wrote about impact and how we measure it. When I started the Rural Technology Fund I knew that fundraising would be important, but I didn't want our success measured by the amount of dollars coming through the door. We've always sought to do more with less, and that's why the RTF is entirely volunteer led and pays no salaries. By taking this approach, we were once again able to use 100 cents of every dollar donated and apply it strategically to several areas of need.
This philosophy allowed us to reach 10,431 students this year. That is over 10,000 students this school year who will have access to computer education resources because of the RTF and our contribution to them and their classrooms. Not only that though, think about this in terms of compounding interest. That number only describes currently enrolled students in these classrooms. Students in the following years will also have access to these materials. It's not unreasonable to think 50,000 students might have sparked an interest in technology over the lifetime of the donations made this year. That's unbelievable and it's something every person who contributed to the RTF in 2016 should feel very proud of.
Engaging Earlier
For the first time ever, we made more donations to elementary school classrooms and any other educational level. The simple reason for this is that we had more requests from those types of classrooms. Digging a little further, I attribute it to a few things.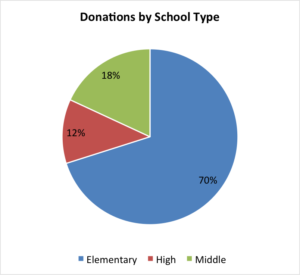 First, more teachers at younger are starting to realize the value of technology education thanks to programs like Hour of Code, which is growing at a rapid rate thanks in part to support from all facets of the government. Teachers are learning about the potential for high tech jobs and their ability to end generational poverty and bring those jobs back to enrich local communities. Programs like Hour of Code are showing the impact tech education can have and they are being worked into professional development, resulting in teachers seeking out the equipment the RTF is donating.
In addition, there have never been more varied types of resources available for younger students. In previous years we've focused on things like Raspberry Pi's and Ardunio's, but those aren't the very accessible until the middle or high school levels. Thanks to new resources like Dash and Dot robots, Bee bots, and Osmo bots, it's never been easier to get kids started writing code and thinking about computer science and engineering. By teaching these skills using tangible objects, students are fully connected to the fruits of their labor and they can see how the digital becomes the physical. It's wildly successful for lighting that spark in young people.
Motivating Teachers
Being a teacher is one of the hardest jobs in the world because every day matters. When you teach in a rural or high poverty area, it adds even more difficulty because you're often left without basic materials you need to keep students engaged. With technology, this is amplified further as learning materials are expensive and can become out of date quickly. None the less, these resources are required to spark an interested in technology education for students and prepare them for future technical careers.
Last year I spoke about our shift from supporting individual students to a greater focus in the classroom and supporting the educations or work with these students. The response has been tremendous, and by partnering with Donors Choose we've been able to reach more classrooms that ever. This is making it easier for teachers to provide the right kinds of enrichment they need to motivate their students and stay motivated themselves. When teachers are operating at high efficiency and have the materials they need, we all win.
Directed Impact
This is the first year we've broadly allowed donors to direct their funding to a specific area. This means that someone from rural Idaho can request we focus on their state, and we will do everything in our power to make that happen. The result has been tremendous, and we've even established some pretty neat partnerships along the way. For instance, we partnered with the ArchCon computer security conference, and through their donations we were able to put technology resources into the hands of hundreds of students in rural areas in Missouri, including some high poverty areas in the St. Louis area.
This also allowed us to expand our reach to more states than ever. This year we impacted students in 20 states, and overall the RTF has now made donations in 28 states, as shown on our impact map, updated for last years activities. Soon I'd love to be able to say that we've made an impact in all fifty states.
Looking Towards 2017
As great as 2016, I'm hoping the coming year will have even more in store. Our focuses for 2017 will be:
Impact: We want to reach 25,000 students in 2017. This is more than double the 10481 from last year.
Strategic Partnership: To continue to grow, we need to forge more partnerships like the one we did with Archcon. If you are involved in a conference or work for a business that wants to make a tangible impact in the area around you, reach out and we will make it happen.
Awareness, Marketing, and Fundraising: We've been successful thanks in part to a small number of compassionate donors. To continue our success we need to expand our reach and rally others who care about technology education in rural and high poverty areas. To support this, we're actively seeking a volunteer marketing manager to help lead our outreach and social media efforts, and contribute to our fundraising. If you are interested, please see this posting for more information.
As always, thanks for your support and contributions. As divisive as 2016 was in a lot of ways, I'm proud that the RTF was able to focus on making positive change in the world. I'm very proud of the work we've done here and I can't wait to see what's next.
All the best,
Chris Sanders, Director