*** Dec 30th Update — Thank you to everyone who donated or partnered with us to participate in our 2021 Golden Ticket fundraiser. With community donations and partner matches, we raised just over $141,000 for charity. That will provide over 112,000 meals and help introduce over 24,000 students to technology education opportunities. ***
We're excited to announce our 2021 Golden Ticket Fundraiser! With this fundraiser, you'll have a chance to win some fantastic training prizes, including a free seat in EVERY training course offered by our partner Applied Network Defense along with some other great training and prizes. The fundraiser runs from December 6th to December 24th and will help us reach our goals in the coming year. Read on for a list of prizes you can win and details on how to enter.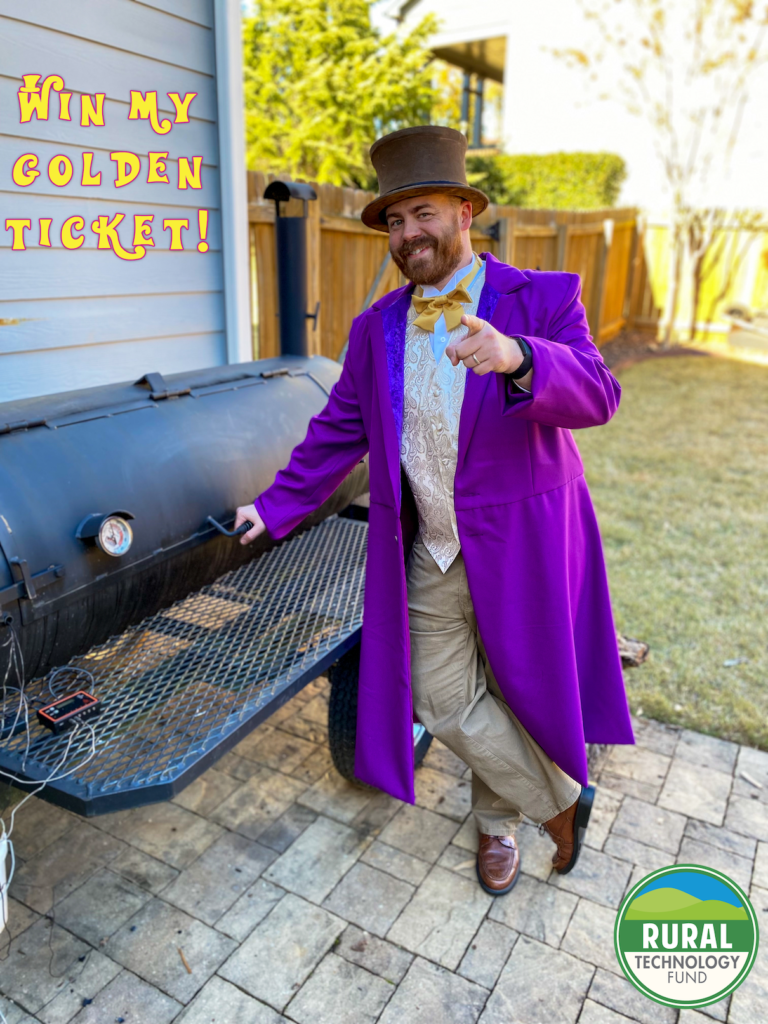 The Prizes
The winner of Chris Sanders' Golden Ticket will receive the following prizes: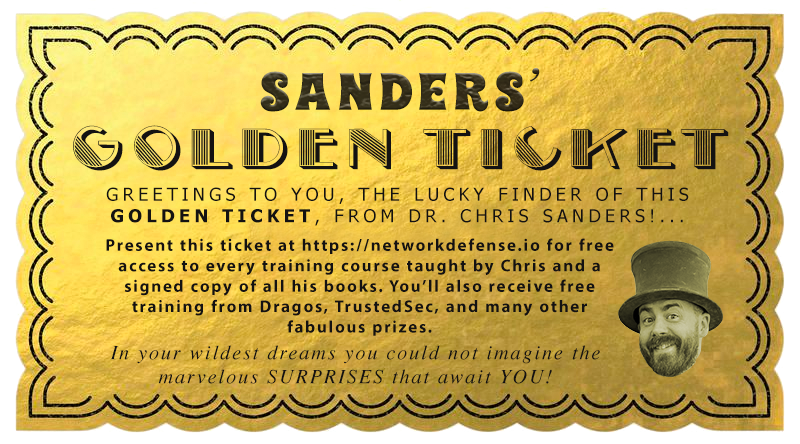 Chris will award at least one golden ticket and up to THREE of them if we reach specific funding milestones (see below). Along with his golden tickets, Chris will randomly draw entries who will win free individual courses and signed books.
How to Enter
To enter the contest, you must make a $20 donation to an eligible charity, which includes:
Forward the receipt of your donation to goldenticket@ruraltechfund.org. The receipt must be dated between December 6th and December 24th of this year.
Every $20 you donate grants another entry into the contest. For example, if you donate $60 to the RTF and $60 to your local food bank, you would receive 6 entries into the contest ($120 / $20 = 6 entries). There is no limit on how many entries you can make. The contest is open internationally.
Chris will reach out and contact the winners on Christmas Day.
Our Goal and Reward Tiers
Last year, this fundraiser brought in community donations totaling nearly $50,000 for these causes.
This year, we're hoping to raise at least that much and are aiming for a stretch goal of $100,000.
We'll be tracking how much we've raised because several partners have stepped up to provide REWARD donations unlocked at specific fundraising tiers.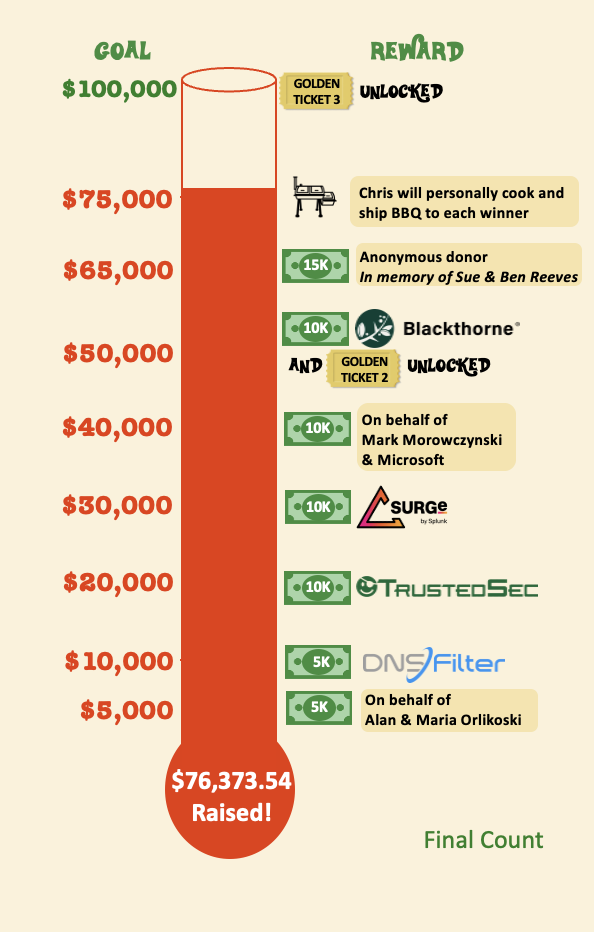 $5000: Unlocks $5000 on behalf of Alan and Maria Orlikoski
$10000: Unlocks $5000 from DNSFilter
$20000: Unlocks $10000 from TrustedSec
$30000: Unlocks $10000 from Splunk SURGe
$40000: Unlocks $10000 on behalf of Mark Morowczynski & Microsoft
$50000: Unlocks $10000 from Blackthorne Consulting AND unlocks the SECOND GOLDEN TICKET to be given away
$65000: Unlocks $15000 from an anonymous donor in memory of Sue & Ben Reeves
$75000: Unlocks the BBQ Tier. Chris will personally cook BBQ for every Golden Ticket winner. That can be a pork butt or brisket (your choice). He'll deliver it himself if you're within a couple hundred miles of Atlanta, GA. If not, he'll vacuum seal it and ship it (US winners only).
$100000: Unlocks the THIRD GOLDEN TICKET to be given away.
All the Details in One Graphic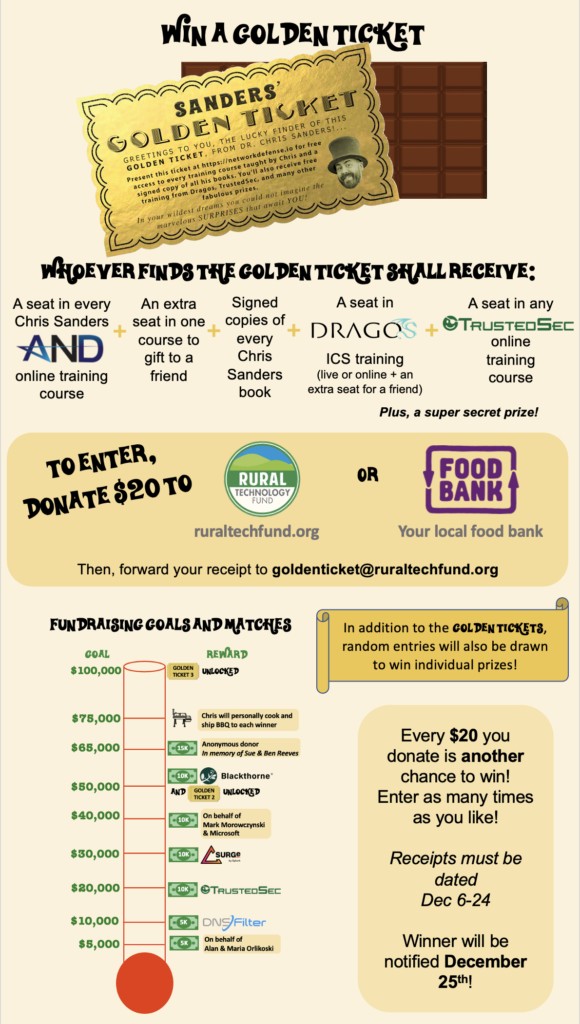 About the Rural Technology Fund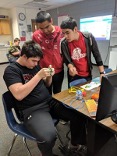 The mission of the Rural Technology Fund is to help rural students recognize opportunities in technology careers and gain the education necessary to work in the computer industry. We accomplish this objective by providing rural educators in public schools and libraries with the materials and curricula they need to teach students computer programming, information technology, cyber security, systems engineering, computer design, robotics, and other technology-related disciplines. Along with this work, the RTF also provides scholarships to rural students pursuing a secondary degree in computer-related fields. Starting in 2021, the RTF has also begun providing assistive technology (AT) equipment to disabled students and teachers who support them while raising awareness of various forms of AT.

We strive for a much better equipped technology workforce and reinvestment of resources back into small communities. The opportunities we create can help young people secure jobs that end generational poverty within their families and provide a means of revitalizing their rural homes through higher-paying salaries. Our work provides opportunities for students to find the spark that ignites their passion for technology or fan the flame of curiosity that already exists within them.
Since starting in 2008, the RTF has funded technology education projects that have reached over 150,000 students across all 50 states. You can read more about the RTF's mission at https://ruraltechfund.org/mission/ and see a map of our impact at https://ruraltechfund.org/impact/.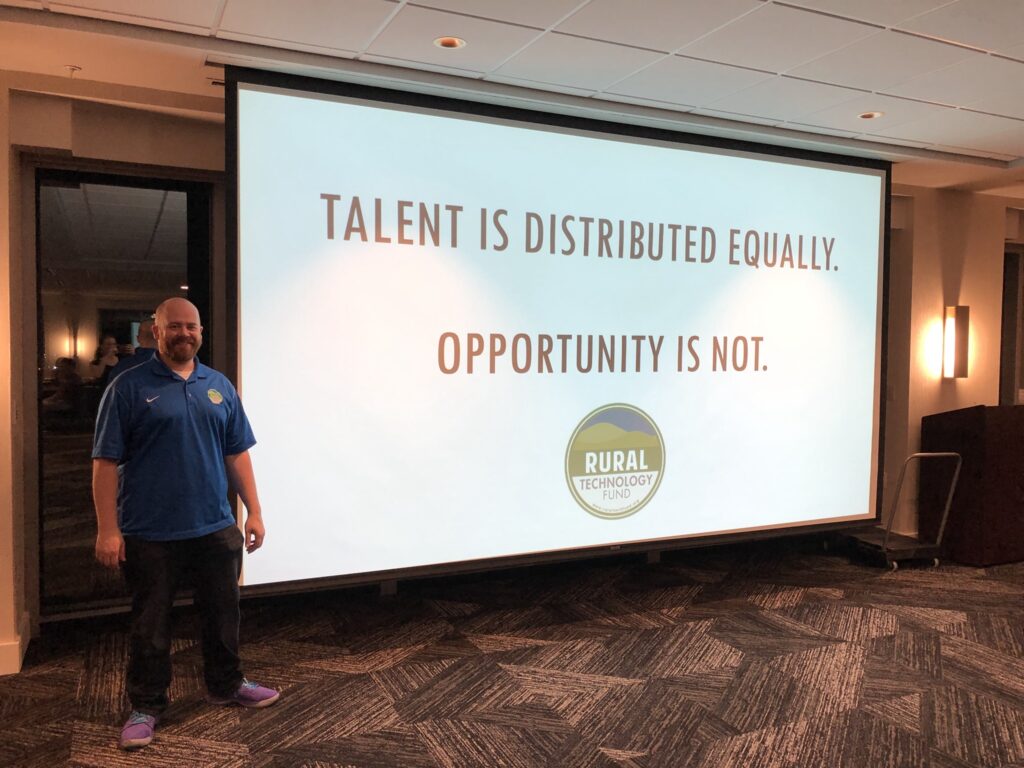 Thank You to Our Partners!
This year's fundraiser will have a tremendously larger impact thanks to contributions from our partners. Be sure to check them out!