Our Assistive Technology Grant application is available now at: https://ruraltechfund.org/apply-for-grants/

Assistive Technology (AT) ensures that kids have the opportunity to fully access their education. However, high-tech AT solutions are often not as readily available in places like the rural areas we serve. If we want to reduce the digital divide, we must make sure that technology is accessible for every student. By working with rural schools and libraries, we can promote student inclusion and participation by providing greater access to AT devices. The Rural Technology Fund now actively supports funding projects that increase student technology accessibility through the use of high-tech assistive technology.
According to the U.S. Department of Education, AT is any item or system that is created or modified to increase or improve the abilities of people with disabilities. It includes low, mid, and high-tech categories.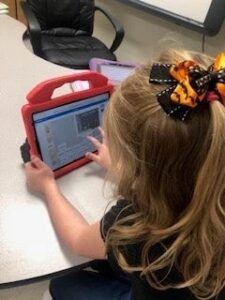 We have already funded a number of high-tech AT solutions for rural classrooms. These projects include technology such as:
Laptops and tablets for accessibility purposes. These are utilized for a variety of software and applications, such as speech-to-text, text-to-speech, word processing, magnification, and audiobooks
Augmentative and Alternative Communication (AAC) in the form of dedicated devices (such as GoTalks), tablets used for AAC purposes (such as iPads with AAC software), buttons, and switches
Adaptive equipment like adaptive keyboards or mice that make technology input more easily accessible
Software or applications such as dictation software, screen readers, speech output software, word prediction, voice recognition, or notetaking systems
Interactive whiteboards for utilization of accessibility applications and promotion of student participation
Educators seeking AT solutions for their students can apply for AT grants here underneath the "Assistive Technology (AT) Grants" section. We fund projects that help establish accessibility for a student or group of students, are utilized in a classroom, resource room, library, or for service-based visits, and are conducted by schools in rural or high-poverty areas. These grants are awarded on a continual basis, and there is no deadline to apply.
If you serve a student population that includes students with disabilities who struggle to access technology in a meaningful way, you can also schedule a session with us to learn more about the assistive technology options that might be available to you.
Do you have a project that increases student access to education with assistive technology? Apply Now!