Thanks to all of our donors' generous donations, RTF is able to impact students from early grade school all the way through high school. This month we're highlighting Mr. Whitehead's project starting a new endeavor at a rural Hamshire, TX high school. Mr. Whitehead's students dream big and his school has a strong tradition of academic excellence, despite very limited funding. To further this tradition Mr. Whitehead and his school wanted to support students' maker aspirations by creating a makerspace in the school's library.
Mr. Whitehead decided to kickstart the markerspace with a 3D printer that would foster the 550 students' interest in STEM through hands-on making. We loved the idea of creating a makerspace and gladly provided the final funding to make it possible. The students are now eargerly scheduling time to use the printer and learning all of the associated technology and skills to successfully build their designs. Mr. Whitehead's students are using this technology both in school and personal projects. The printer can easily be called a grand hit and shows the innovative ways one can teach and learn STEM!
Hearing from Mr. Whitehead the intense interest generated by the 3D printer is absolutely inspiring:
We have a sign-up system to give students access to the printer, and it's a huge hit! Our kids are coming before school, during lunchtime, and visiting in between classes just to watch the printer work. Students are asking questions and generating ideas for models that they can design and print, outside of school projects. One student has designed and modeled a custom Gameboy case, and he used the 3D printer to print it out. It turned out great in the first print! Our robotics classes are also using the printer to create custom components for their machines. It's been very rewarding to teach students how to use drafting tools to create their own 3D models and watch them come to life through printing. Since we've had the printer, students have started teaching each other how to best design and print files.

This printer engages students in the prototyping process and helps them with real-world problem solving, critical thinking, and applied math and science skills. It has brought together a community of makers at our campus that I am confident will continue to grow. The 3D printer is the first spark in our maker movement here, and the librarian has plans to bring in more tools and a Lego wall. Once again, we thank you so very much for your confidence in our school, and we are so grateful for your support.

With gratitude,
Mr. Whitehead
We are especially moved hearing that not only are the students learning from their teachers, but that they are now teaching each other! As this is a shared resource for the whole campus everyone is able to join in! The students' curiosity is also on great display by the many questions and ideas they have generated regarding models to design and print, to include learning the drafting tools to create the designs. The 3D printer and larger makerspace has helped combine the world of engineering, design and entrepreneurship. It will prepare students for lives as inventors, engineers and innovators with career paths including scientific modeling, research and development and architecture.
The students themselves shared their excitement regarding the new printer and how it will help them accomplish their future goals.
Matthew Preparing to be a Computer Engineer

Ashton Enjoying the Opportunity to Learn New Technology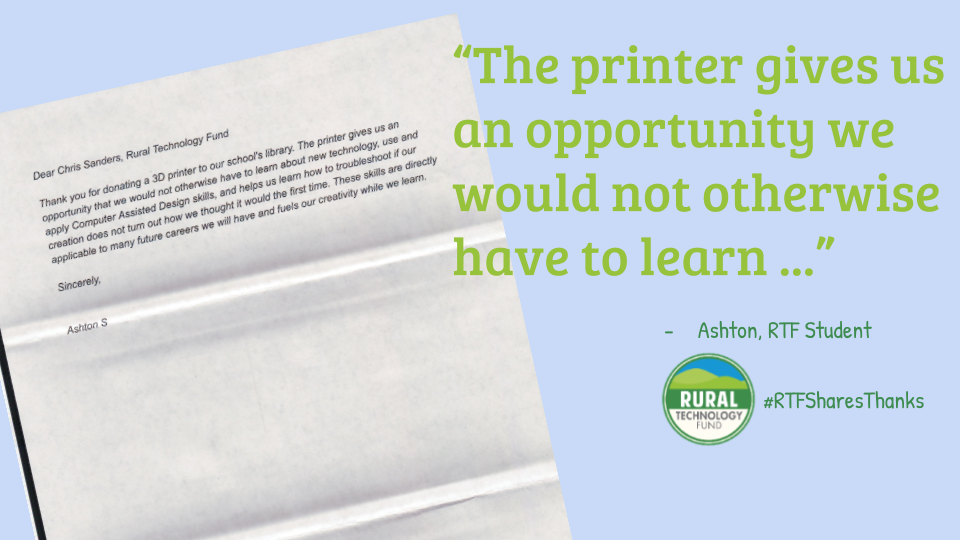 We couldn't be more excited to have helped make an impact on the community of Hamshire, TX and its students! Please continue to stay tuned at our blog, twitter and facebook pages for other editions of #RTFSharesThanks!
—
We're trying to bridge the digital divide between urban and rural communities by helping introduce students to technology jobs and end generational poverty. Interested in making an impact in your community? E-mail us or consider donating to our general fund.