Hands-on making and building can be such powerful tools in the STEM learning process. This is a huge reason that maker spaces are so popular for students of all ages and we are always happy to help fund these projects with the RTF! Ms. Lazanich's fifth grade class recently had the opportunity to use a Maker Space after school for eight weeks. It was such a huge success Ms. Lazanich wanted to be able to provide her third through fifth grade students with this opportunity all of the time. RTF was happy to sponsor this activity along with several other private donors and Aspect Ventures!
Ms. Salina envisioned using Makey Makey's to help connect the programming her students were doing with various aspects of the connected world. Makey Makey's allow her students to create pianos from bananas and play pac man using a piece of paper. As with many projects, students are collaborating and learning in groups, a skill that is becoming ever more important in the STEM world. The new technology has been a huge success and we can't wait to see what Ms. Lazanich's students continue to build!
Ms. Lazanich has shared with us the amazing experience the students have had with the Makey Makey's:
Words cannot truly express the impact Makey Makey's have made to the learning environment in my classroom! Students are engaged every minute that they are given to explore using this technology. Within the first 2 weeks almost 50 students were able to use them! As a result of the high interest I was able to create an after school programming with not only Makey Makey's but with coding as well.

Students are so focused you can hear a pin drop, with the occasional "It worked!". "Miss Lazanich, you have to see this!", "What?! Did that just happen? I wonder if this will work.". I find students not only using items throughout the classroom but are bringing items from home as well. I even find myself creating right along with my students! Students are teaching themselves and helping each other. Overall, these Makey Makey's are creating problem solvers and critical thinkers for the 21st century.

A huge thank you for your donation! Without you we would not have this possibility! You are helping shape our youth!

With gratitude,
Ms. Lazanich
Eighty of Ms. Lazanich's students are using the Makey Makey's during after school Maker Space activities. The students are readily partnering together to create interesting projects. They are enjoying the ability to learn code in sessions and later connecting that to the Makey Makey's for control. As Makey Makey's don't require coding knowledge up front, students of all ages are able to quickly participate. Ms. Lanzanich said these tools are helping her students become "21st Century Inventors" and we couldn't agree more. Specifically, the students look forward to becoming systems designers, computer engineers and software programmers. We are so inspired and proud to help fulfill these dreams.
We always love to hear from the students and they've sent wonderful letters sharing their excitement.
Emme Playing the Piano

Emmy Stretching the Brain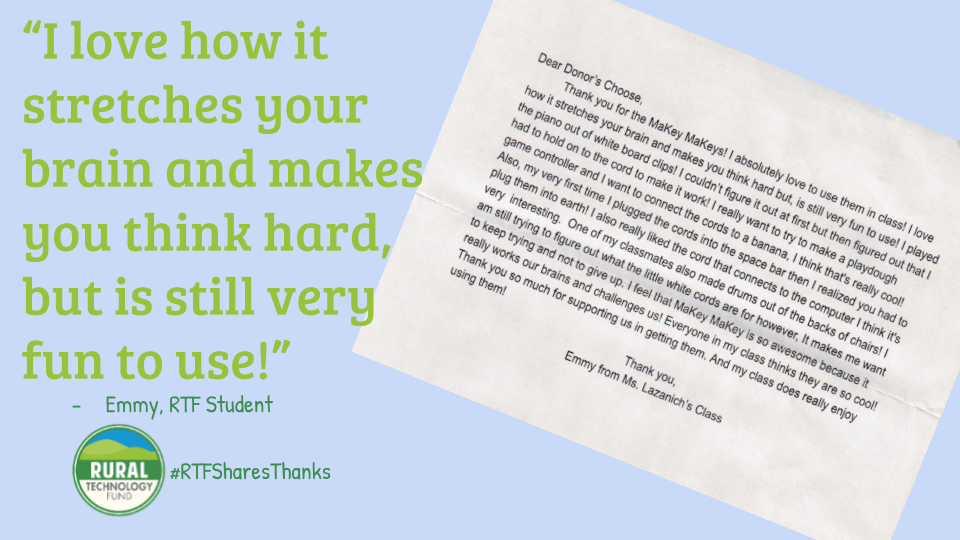 Jasmine Loving to Invent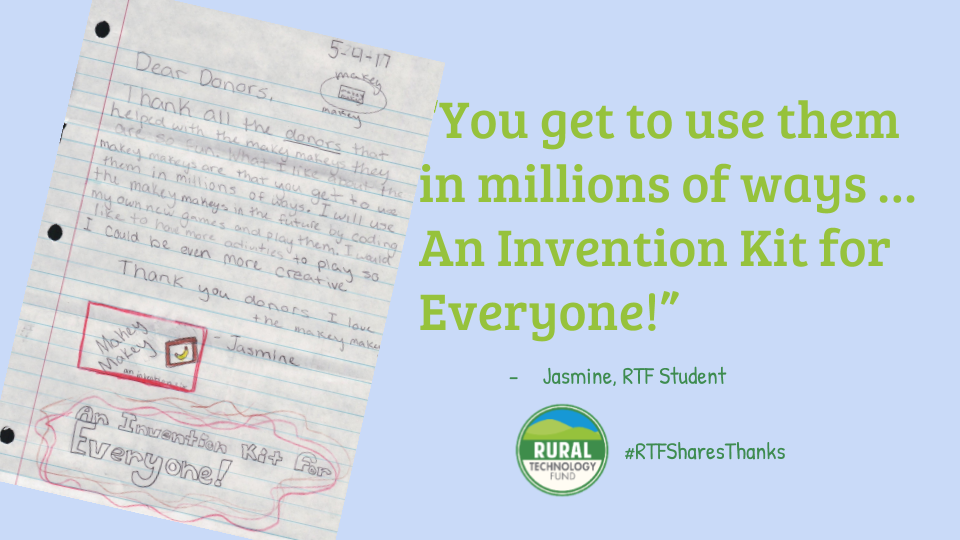 Zack Experiencing the Technology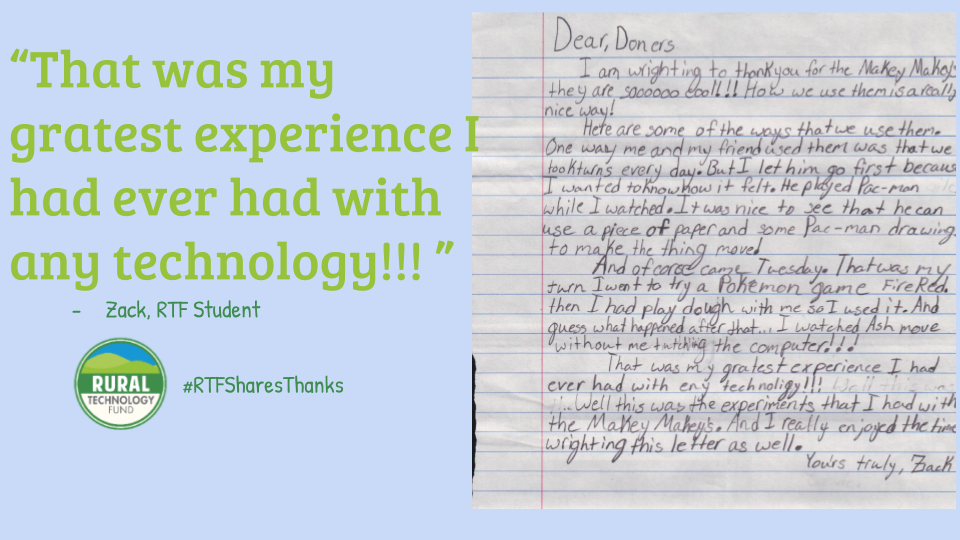 We couldn't be more excited to have helped make an impact on the community of Mantua, OH and its students! Please continue to stay tuned at our blog, twitter and facebook pages for other editions of #RTFSharesThanks!
—
We're trying to bridge the digital divide between urban and rural communities by helping introduce students to technology jobs and end generational poverty. Interested in making an impact in your community? E-mail us or consider donating to our general fund or contributing to our patreon.